Posted on
Fri, May 27, 2011 : 5:11 p.m.
Heavy rains turn Ann Arbor soccer field into carp fishing hole
By Cindy Heflin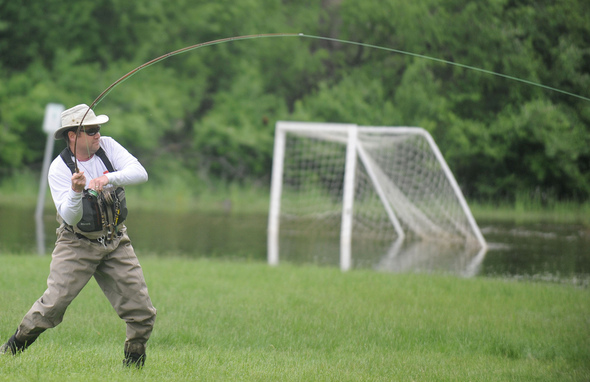 Angela Cesere | AnnArbor.com
Paul Christensen
cast his line deftly into the water. Seconds later, the line went taut and he went to work to reel in his catch.
The outcome was never in doubt, but the fish was not giving up without a fight. After a couple of minutes, Christensen showed off his catch, a carp of about 5 pounds, hooked on the soccer field at Fuller Park in Ann Arbor Friday.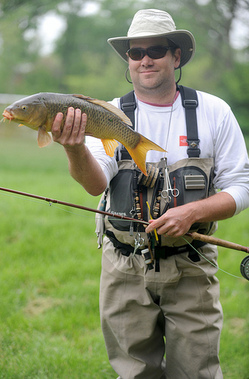 Angela Cesere | AnnArbor.com
That's right, a soccer field. "It's sort of a making lemonade out of lemons situation," said
Dirk Fischbach
of
Saline
, who came out with Christensen Friday to see how many carp they could catch at the park.
With the Huron River at near flood stage following heavy rains in the Ann Arbor area, water was running too fast to fish in the river itself. And the carp, always on the hunt for food, were taking advantage of the flood to feed in a new area. Christensen estimated hundreds were swimming about in the soccer fields, which were flooded with up to 3 feet of water.
It's not the first time Christensen and Fischbach have turned to a flooded area to satisfy their fishing jones.
"Most of us get really bummed out when the river's not safe to fish," Christensen said.
"You can either sit around and do nothing or you can try to have some fun," Fischbach added.
The river is not safe for wading in when it's flowing at 800 cubic feet per second, Christensen said. Today it was flowing at 3,400 cubic feet per second, he said.
Christensen, who works for Computer Professionals On-Site and is president of the Huron River Fly Fishing Club, said this has been the worst year for fishing on the river he's seen. But for the past two or three years, he's had to seek alternative fishing sites when the river has been swollen.
He admits the park soccer fields are an unusual place to fish, but he said it's not all that different than fishing on the flats of Traverse City, which he said is common practice.
Both Christensen and Fischbach run their own fly-fishing guide services. Christensen said he takes about 15 to 20 people out per year through his Huron Fly Fishing Guide Service. Fischbach, 49, runs Huron River Fly Fishing Adventures and leads an estimated 30 to 40 trips per year. Fischbach also owns a marketing and communications company.
Though Christensen, 36, said most Huron River fly fishermen would rather fish for smallmouth bass, carp fishing is becoming more popular.
It's all about the challenge of catching these fish, which can grow to 40 or more pounds and which fight on the line as hard as any fish, Christensen and Fischbach said. Christensen himself has caught a 42-pound carp in Traverse City. In Ann Arbor, the largest one he's caught has been about 20 pounds.
Fischbach said Christensen is the "best fly-fishing carp fisherman on the river."
So how many did he catch Friday? Just one. Christensen said the conditions weren't right. Cloudy weather made the fish hard to see. To get them to bite, you have to land the lure near the fish's mouth, and that's hard on a cloudy day.
Christensen said he likes the challenge of fooling the fish with artificial food. Friday, he was using a fly made to look like a mulberry, which he said is the carp's favorite food. "Sometimes they're attracted to the sound," he said as he tried to hook fish in calf-deep water in Fuller Park. "I'm trying to imitate the sound that a berry makes when it falls out of a tree."
Christensen and Fischbach said they generally release all the fish they catch, with the occasional exception of a trout caught up north. Though Christensen said some people like to eat carp, he's not a fan. "I think they taste terrible."