Posted on
Thu, Nov 17, 2011 : 11:02 a.m.
Ann Arbor students attract 50,000-plus to online anti-bullying petition
By Paula Gardner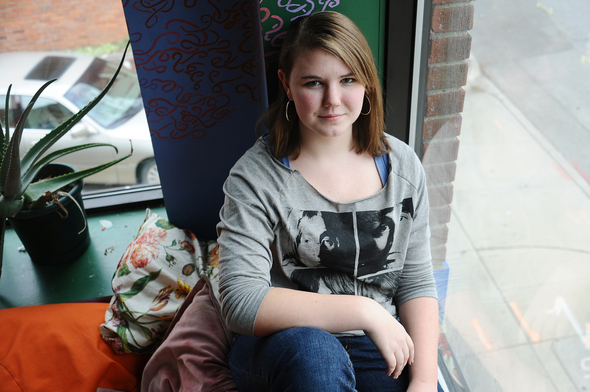 Melanie Maxwell | AnnArbor.com
Two Ann Arbor teens are using their own experiences as targets of school bullies to lead an online petition against pending legislation in Michigan that they call a "blueprint for bullies."
As of Thursday morning, the effort through Change.org had attracted more than 53,300 signatures.
Katy Butler, a 16-year-old, said she's endured shoving, harsh name-calling, and an incident where her hand was slammed in a locker door, according to Change.org. Her friend Carson Borbely, a 13-year-old eighth grader in the Ann Arbor Public Schools, identifies as a transgendered male and says he's been subjected to repeated harassment.
The pair met at Ann Arbor's Neutral Zone, Butler said Thursday morning. Their shared experiences made them react in a similar way when they learned the Michigan Senate had approved anti-bullying legislation early this month that included an exemption for people who say their behavior is founded on a religious or moral conviction.
Then last week, the state House approved legislation that removes that provision, but it's unclear what the final bill will say. The House bill moves to the Senate, and both need to approve it before it moves to Gov. Rick Snyder's desk for a signature.
Butler said the initial legislation allowed people to target gays.
"That's not right," she said. ".... We feel really unprotected under that."
Her goal now, she said, is to keep that language out of the final bill that passes.
Beyond that, she said she hopes anti-bullying legislation can list examples of who's not allowed to be bullied and set consequences for people who do bully.
"I'm looking for it to be a learning process," she said. "I don't want every single person to be punished. That's unrealistic.
"But if someone gets punished for saying 'that's so gay' or beats someone up, I want education on why that's not OK."
Butler, now a junior at Greenhills, endured much of the bullying in the Plymouth-Canton Community Schools, she said.
The bullying targeted her sexual orientation, with middle school classmates calling her anti-gay slurs as she was recognizing that she was a lesbian.
The adults around the situation, she said, didn't help. "I felt like they didn't even know it was going on."
She's not bullied today, but recognizes that not all of her classmates are supportive. Teachers, however, are, and they set the tone.
As she considers what schools will be like for students under anti-bullying legislation, "I think the biggest problem is going to be ignorance."
Butler is prepared to keep the issue in front of the public, and she's getting support from Change.org to do that as she urges people to pressure lawmakers to approve legislation that doesn't exclude her or other students who are targeted for attacks based on sexual orientation.
"We'll keep going as long as it takes," she said. "It if could happen by tomorrow, that would be phenomenal."
Paula Gardner is news director at AnnArbor.com. She can be reached by email or followed on Twitter.