Posted on
Tue, Jan 24, 2012 : 5:59 a.m.
Ann Arbor supporting ACLU in federal lawsuit opposing domestic partner benefits ban
By Ryan J. Stanton
The city of Ann Arbor is supporting the ACLU in a federal lawsuit that claims Michigan's new ban on domestic partner benefits violates fundamental constitutional protections.
The Ann Arbor City Council voted unanimously Monday night in favor of a resolution directing the city administrator and city attorney to assist the civil rights group in the lawsuit filed in federal court this month after Gov. Rick Snyder signed Public Act 297 into law.
The law bans public employers in Michigan from offering health insurance and other benefits to the live-in partners of their employees.
Less than a dozen city of Ann Arbor employees take advantage of the city's domestic partner benefits policy but city officials say their rights are worth defending.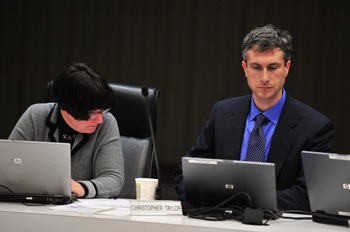 Ryan J. Stanton | AnnArbor.com
The resolution — sponsored by
Sandi Smith
,
Tony Derezinski
and
Christopher Taylor
— reaffirms the city's commitment to providing benefits to unmarried couples who have lived together for 18 months. It also directs the city administrator and city attorney to take appropriate actions to protect the legality of offering of those benefits.
The city won't formally join the ACLU lawsuit as a co-plaintiff but will assist in other ways, including possibly filing amicus briefs, said City Attorney Stephen Postema.
"To the extent that they need assistance and the court allows it, certainly we may be able to bring some perspective," he said.
The resolution approved by council acknowledges Ann Arbor has been a leader in human rights for many years and was the first city in Michigan to establish a non-discrimination ordinance and also the first to add protections for sexual orientation.
The city argues a ban on offering equal benefits to gay employees and other unmarried couples puts public employers at a competitive disadvantage.
"The city of Ann Arbor, the University of Michigan, the state of Michigan and other public employers in our state must be able to compete with the private sector and with public employers in other states to attract the best and brightest talent to our workforce," the resolution states, arguing the ban "violates fundamental constitutional protections, including equal protection of the law and substantive due process."
Council Member Jane Lumm, an Independent who represents the 2nd Ward, raised concerns about the potential investment of staff time in assisting the ACLU in the case, but she was told by city staff it would require very little time. She also said she would be concerned "if it was just the ACLU and the city of Ann Arbor and basically no one else" versus the state.
"For my part, I would be proud to have Ann Arbor stand as the only municipality with the ACLU on this issue," replied Taylor, D-3rd Ward.
City Administrator Steve Powers said in an email to council members that the city's administrative staff, with advice from the city attorney, will follow the resolution's intent to continue to provide domestic benefits to city employees.
Ryan J. Stanton covers government and politics for AnnArbor.com. Reach him at ryanstanton@annarbor.com or 734-623-2529. You also can follow him on Twitter or subscribe to AnnArbor.com's email newsletters.