Posted on
Tue, Feb 28, 2012 : 5:55 a.m.
Ann Arbor technology millage campaign kicks off Wednesday
By Danielle Arndt
Ann Arbor Public Schools will launch an informational campaign for its upcoming technology millage during an event Wednesday at Huron High School.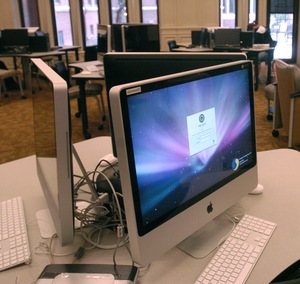 AnnArbor.com file photo
The kickoff will start at 6:30 p.m. in the cafeteria. District administrators, parent-teacher organizations and union representatives will be present to discuss the bond proposal with the community.
Voters in the Ann Arbor district will be asked to consider a $45.8-million bond for technology improvements in the May 8 election. If passed, the proposal would levy an additional .45 mills (or 45 cents per $1,000 of taxable value) from taxpayers beginning in July 2012.
According to AAPS, the impact to voters whose homes have a market value of $100,000 would be an additional $26 per year. Voters with a $200,000 to $300,000 home would pay an extra $51 to $77 per year.
The technology millage originally was planned for the November 2011 election. However, school officials decided in August to push it back so they had more time to communicate with the public about why the district needs the bond.
Voters approved a five-year bond in 2004 with $20 million going toward technology. That money was spent on new computers; assistive classroom technology, such as Smart Boards and sound amplifiers; and career and technical education equipment.
The 2012 bond plan would be phased-in over the course of 10 years in three separate series, spending $27.27 million in 2012, $10.57 million in 2015 and $8.01 million in 2018.
The first series would be for equipment and infrastructure improvements primarily, while the final two series are not entirely planned out yet, said district spokeswoman Liz Margolis.
Included in the tech bond plan is:
Expanding the wireless infrastructures for greater support and speed
Expanding the network video system for the district
Replacing 8,142 of the district's approximately 8,250 computers
Purchasing mobile technology devices, such as iPads, for student use
Replacing the sound amplifiers in classrooms across the district
Upgrading server rooms, replacing some servers and fixing heating and cooling issues in these rooms
The most crucial element of the plan is improving the district's main distribution framework, said Executive Director of Physical Properties Randy Trent.
He said an increase in students carrying personal technology devices, such as cell phones and tablets, bombarded the district's public network, causing frequent crashes.
The crashes forced AAPS to turn off the public system during the day, Margolis said. She added the public network acts as overflow for the district's internal network.
"What was happening is the internal system got overloaded, and the public system was being overloaded, so teachers had no way of utilizing the full system," she said.
The district's technology bond plan would increase its bandwidth and infrastructure to support two systems again — allowing the public network to be back up and running during the day, Margolis said.
The district would spend about $3.5 million on server room and wiring closet improvements and an additional $3.4 million on improved wireless capabilities, according to documents prepared by school officials.
More than half of the $45.8 million, about $25 million, would be spent to replace the district's computers — both laptops and desktops.
The goal is to provide two laptop carts per elementary, three laptop carts per middle school and 12 carts per high school, according to emails and documents obtained by AnnArbor.com. The exception would be at Forsythe Middle School, which would receive four carts because it has less overall computer lab space.
Trent said 99 percent of Ann Arbor's computers are three years old or older. Sixty-six percent are five to six years old and 34 percent are seven to eight years old, he said.
Trent explained in tech years, that's really old.
Ann Arbor Superintendent Patricia Green said the aging computers are becoming more and more difficult for teachers and students to use.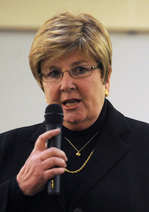 "In fact, it's gotten to the point where people don't use things because it's frustrating and the technology breaks down," she said. "Why bother to use something if the students are forced to have wait time because the software can't keep up … or there isn't enough bandwidth or memory or they can't print something they've been working on because the printers won't work?"
The technology plan the district has put together would allot about $300,000 for replacing and repairing about 500 printers.
Also included would be equipment for career-technical education purposes. So far, $166,000 per series or about $500,000 total has been designated in the plan.
Another $500,000 would be set aside for human resources software.
While not part of the original bond proposal, document cameras, one per art room, were added to the plan at the request of the district's instructional team, according to emails.
iPads at a total price of $13,500 also would be purchased for the district's preschool classrooms. This would be in addition to 10 iPad carts for sharing among elementary buildings.
The majority of mobile devices the district would purchase has been moved to the second phase of the bond plan, starting in 2015, emails stated.
During the first series, all of the district's classroom projectors would be replaced and mounted. Many of Ann Arbor's projectors are starting to fail and most display at a low resolution by current standards, said district officials.
Also during the first series, about one-third of the district's sound field amplification equipment would be updated. Trent said this equipment was purchased during the 2004 technology bond.
Essentially, teachers wear a small voice amplifier on a string around their necks to help eliminate sound wave interference. Teachers' voices are then projected more clearly through ceiling-mounted speakers, Trent said, adding the technology first was developed to assist hearing-impaired individuals. But the district found it helps combat poor acoustics and allows all students to hear better, he said.
The bond program management and design is estimated to cost $1.2 million, which has been included in the $45.8 million total.
AAPS has been working with Barton Malow on the plan.
The plan also has a built-in contingency of about $1.9 million and soft costs of an estimated $830,300 for bond issuance, permits and engineers.
A briefing book containing information on the technology bond has been made available at the main office of each school building, Margolis said. The public may come in to their child's school and ask to flip through it, she said.
Staff reporter Danielle Arndt covers K-12 education for AnnArbor.com. Follow her on Twitter @DanielleArndt or email her at daniellearndt@annarbor.com.