Posted on
Wed, Nov 14, 2012 : 12:50 p.m.
Ann Arbor-to-Detroit commuter rail: SEMCOG says demonstration trains could start next year
By Ryan J. Stanton
Six newly refurbished, bi-level commuter rail cars made their first test run from Pontiac to Jackson and back Tuesday night, passing through Ann Arbor.
Officials involved in the Ann Arbor-to-Detroit commuter rail initiative are hoping to hear back sometime next week whether the cars passed the test, which is required to be cleared for service. And if that happens, the public could be invited to ride demonstration trains starting next year.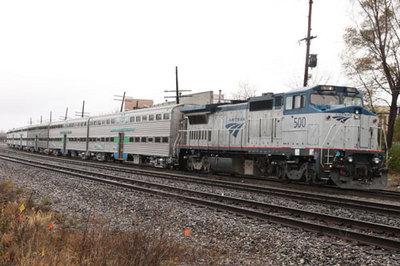 Photo by Steve Sobel
"Things seemed to go well," said
Carmine Palombo
, director of transportation programs for the Southeast Michigan Council of Governments.
Tuesday's train, led by an Amtrak locomotive, made stops in Birmingham, Royal Oak, Detroit's New Center, Dearborn, the sites of planned commuter rail stations at Henry Ruff and Michigan Avenue near Detroit Metro Airpot and at Depot Town in Ypsilanti, Ann Arbor, Dexter and Chelsea before arriving in Jackson. The cars were tested at normal operating speeds of up to 79 mph.
The Michigan Department of Transportation and SEMCOG were testing the cars in anticipation of using them for two future commuter rail service programs. That includes the east-west Ann Arbor-to-Detroit line and the north-south WALLY line linking Ann Arbor and Howell.
Local officials and many residents in Southeast Michigan have been waiting for years for commuter rail service between Ann Arbor and Detroit.
Palombo said the service won't begin anytime soon, but he's hopeful demonstration trains could run during special events next year — not this year as previously hoped.
"We don't have dedicated funding for the project yet, but this testing is the next step in the process," he said. "When the testing is completed, and hopefully we pass, the next step is to hold these event trains sometime next year, hopefully several of them."
Palombo said the idea is the event trains will provide the public with an opportunity to ride the trains and generate some excitement, hopefully leading to long-term funding to institute daily service.
He said he's hoping Congress or the Michigan Legislature will step up to the plate and see Ann Arbor-to-Detroit commuter rail as a pilot project worth funding.
MDOT officials directed questions about funding to SEMCOG. Palombo said SEMCOG didn't have a good estimate of what it would cost to fund such a service for a full year, as it depends on ridership and the cost of services purchased from Amtrak. But he said he's hoping to learn a lot more about the potential costs from running demonstration trains next year.
The six rail cars, which MDOT owns, were refurbished by the Great Lakes Central Railroad. The train was expected to be transferred back to GLC at Durand on Wednesday.
The cars first arrived in Pontiac on Sunday and underwent static testing by Amtrak and GLC on Monday before making the run to Jackson and back Tuesday night.
Amtrak, GLC, MDOT consultants, and the Federal Railroad Administration conducted the testing, which was coordinated to avoid passenger and freight movements. Because it was strictly a test of the equipment, the public was not invited to board the train at this time.
MDOT said the cost to refurbish each car was about $310,000, with funding provided by state and federal sources.
The rail cars were purchased from the Metra commuter rail system in northeast Illinois before being refurbished. The new seating inside was done by American Seating in Grand Rapids.
The promise of commuter rail service between Ann Arbor and Detroit, as well as high-speed passenger rail from Detroit to Chicago, are reasons why Ann Arbor officials have been working over the last several years toward the goal of building a new Amtrak station on Fuller Road.
Ryan J. Stanton covers government and politics for AnnArbor.com. Reach him at ryanstanton@annarbor.com or 734-623-2529. You also can follow him on Twitter or subscribe to AnnArbor.com's email newsletters.