Posted on
Tue, Feb 14, 2012 : 3:31 p.m.
Ann Arbor school board to discuss 2-year survey results Wednesday
By Danielle Arndt
Ann Arbor Public Schools launched a school climate survey in 2009 to assess the environment at each building and grade.
Now district administrators will share the results of this two-year survey Wednesday at the Board of Education's Committee of the Whole meeting.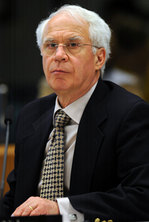 Surveys were issued to teachers and students districtwide during the 2009-10 and 2010-11 academic years.
Trustee Glenn Nelson said school board members were presented with preliminary data in Fall 2010, following the first round of surveys. He said at that time, the results showed a dissonance between how teachers and students felt about their learning environments.
One major thing that stuck out to Nelson was the difference in opinions among teachers and students in how classroom curriculum was presented, he said. Largely, from what he can recall, teachers tended to "agree" with statements about their teaching styles, while students were more likely to "disagree" or "somewhat disagree," he said.
Nelson explained most of the survey questions were phrased as statements and those taking the surveys were asked to respond using a varying "agree" to "disagree" scale.
He said it also surprised him to see how many students felt safe all of the time and how many didn't feel safe at least part of the time.
"I believe a clear majority always felt safe, but the percentage was not close to 100 percent as one would ideally want," he said. "It leaves one thinking about what we can do to make schools a better, safer place for our students."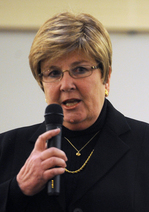 The Board of Education had hoped to discuss the final round of data before now. However, AAPS experienced significant turnover in its administration shortly after the last school year when the surveys were being wrapped up, said Superintendent Patricia Green. This caused a delay in reporting the survey's results, she said.
The surveys stemmed from a desire to improve the district's best practices, Nelson said. He said at a mini board retreat three years ago, the board was briefed on a number of initiatives to enhance the district's practices and it was deemed evaluating school climate was something the district did not do enough.
Increased attention on bullying and the schools' guidance counselors grew out of the same discussion, he said.
Nelson does not anticipate there will be much change in the survey results from the first to second round.
"I think large institutions tend to evolve slowly," he said, adding he looks forward to discussing what the district will do now that it has this data.
Two student-led groups already shared information on their perceptions of school climate during separate presentations to the board at last week's regular meeting.
The Pioneer High School student council delivered a report to the board on items they would like to see improved within their building. In January, trustees approved reserving additional time at their meetings for a wider variety of student organizations to participate.
Pioneer's student body Vice President Aidan Geronimus said the school's classes are being taught in a way that caters to students with discipline problems. A number of teachers' tests come straight from the Internet, others show up to class and say they forgot to prepare a lesson plan, Geronimus said.
"There is an emphasis on respecting teachers and administrators … but kids don't feel like they're getting that respect back," he said. "Kids have to show up, do their jobs, do their homework."
Geronimus, a senior, said students would appreciate the ability to easily bring up these concerns with district administrators, not just Pioneer Principal Michael White. Geronimus also praised White for improving the school climate at Pioneer during the past four years.
"He's done an amazing job at bringing the heat down on those teachers," he said, referring to the teachers he described above.
White also has worked to eliminate hall monitors shouting on megaphones in the hallways, Geronimus said, adding the frequency of hallway fights is diminishing as well.
Riot Youth — a student-led group of lesbian, gay, bisexual, transgender, queer and questioning youth and their allies — also presented a compilation of stories and data collected at about the same time the district conducted its climate survey.
Riot Youth also plans to attend Wednesday's meeting to talk more specifically about what they hope the district will do to improve its bullying policy.
The meeting will be at 5:30 p.m. at Forsythe Middle School.
"It is very refreshing to have student perspectives, not just our own perspectives as staff," Green said.
She added looking at the traditional role of counselors in schools, as well as the best-practice role, is a big part of her plan for improving not just school climate, but the discipline gap as well.
Green said the district needs to look at taking away some of counselors' tasks that are not as essential to being able to support families and students directly.
"It goes back to promoting social and emotional learning," she said. "Kids turn to counselors to be a support system at school. … Counselors have a highly defined set of skills. … We need to better take advantage of those."
Staff reporter Danielle Arndt covers K-12 education for AnnArbor.com. Follow her on Twitter @DanielleArndt or email her at daniellearndt@annarbor.com.