Posted on
Wed, Mar 28, 2012 : 12:33 p.m.
Mother of four killed in car crash west of Ann Arbor
By Kyle Feldscher
An Ann Arbor woman was texting while driving when her car crashed Tuesday afternoon on Wagner Road in Scio Township, killing her, police said
Ann Arbor resident Charmaine Daugherty died after her car hit a telephone pole and overturned on Wagner Road south of Liberty Road, Washtenaw County Sheriff's Office spokesman Derrick Jackson said.
Daugherty was texting at about 3 p.m. while driving north on Wagner before she began to cross the center line into oncoming traffic, Jackson said. She swerved, lost control of the car and hit the telephone pole on the west side of the road. Her vehicle came to rest upside down in a field west of Wagner Road.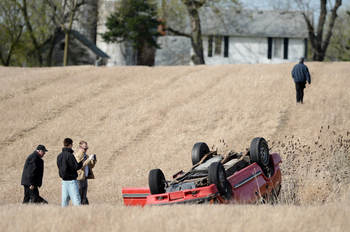 Melanie Maxwell | AnnArbor.com
Daugherty was the mother of four children, Jackson said. The family is absolutely devastated, he said.
"They're in a tough position," he said.
Daugherty was pronounced dead at the scene. She was the only person inside the car, Jackson said.
Jackson said Daugherty was wearing a seatbelt.
Daugherty was a Slauson Middle School, Lawton Elementary School and Pioneer High School parent and the school's principal sent out an email Wednesday morning announcing her death to school parents. Counselors and staff members were on hand at the schools Wednesday to help any staff and students struggling with the news, according to district spokeswoman Liz Margolis.
Funeral arrangements for Daugherty are expected to be released on Thursday, according to the email.
Kyle Feldscher covers cops and courts for AnnArbor.com. He can be reached at kylefeldscher@annarbor.com or you can follow him on Twitter.