Posted on
Mon, Sep 9, 2013 : 12:38 p.m.
Ann Arborites think city would benefit from more downtown parks, survey finds
By Ryan J. Stanton
More than 76 percent of roughly 1,600 online survey respondents believe Ann Arbor would benefit from having more downtown parks and open spaces.
As the city moves forward with exploring the idea, a majority of those surveyed suggested they'd prefer a new park at least the size of Liberty Plaza, which is about 11,000 square feet.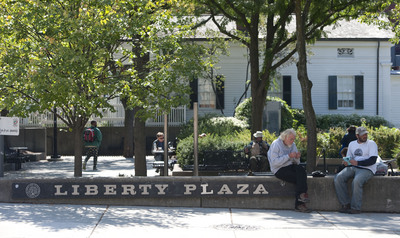 Courtney Sacco | AnnArbor.com
Many others indicated they'd prefer a large park or open space similar in size to the Farmers Market, which is about 30,000 square feet.
The Downtown Park Subcommittee of the city's Park Advisory Commission invited the public to take the online survey as it continues to look at the issue of downtown parks.
The committee plans to make a recommendation to the City Council this fall about use of city-owned properties as parks or open space.
The survey noted the city uses streets, parking lots and plazas for more than 50 annual downtown street festivals, fairs and outdoor programmed events.
About half of those surveyed said those spaces meet or exceed the community's need for downtown parks and open spaces, while 37.6 percent said they don't; 13.3 percent were unsure.
If the city were to add more downtown parks or open spaces, only 9 percent of respondents think it should be solely funded by city tax dollars.
Rather, 67.8 percent said it should be funded through a combination of public and private sources, and another 5.8 percent said it should be solely private funds.
The Library Lot parking lot above the Fifth Avenue underground parking garage was ranked as the most desirable spot for a new downtown park/open space, followed by the old YMCA site across the street, the Kline Lot at Ashley and William, and the Palio Lot at Main and William. The least desirable location on the list was the former city maintenance yard at 721 N. Main St.
The majority — about 62 percent — of survey respondents were 45 and older, while about 34 percent were 25-44, and 3.8 percent were 18-24.
The public is invited to attend the next public meeting of the Downtown Park Subcommittee from 7-8:30 p.m. Monday, Sept. 9, at the Ann Arbor District Library, 345 S. Fifth Ave. Another meeting is planned from 7-8:30 p.m. Sept. 18 inside the basement of city hall.
Ryan J. Stanton covers government and politics for AnnArbor.com. Reach him at ryanstanton@annarbor.com or 734-623-2529. You also can follow him on Twitter or subscribe to AnnArbor.com's email newsletters.