Posted on
Mon, Oct 1, 2012 : 2:17 p.m.
Ann Arbor's Arbor Brewing Company owners join environmental groups to promote renewable energy ballot issue
By Amy Biolchini
Editor's note: This story was edited to correct factual errors.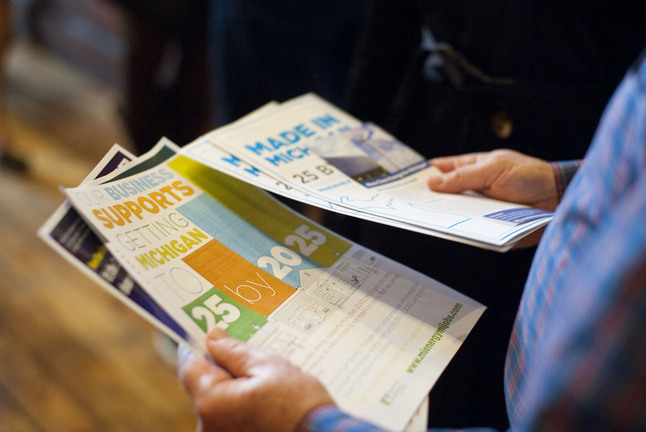 Courtney Sacco I AnnArbor.com
Representatives of environmental groups met in
Ann Arbor
Monday morning to endorse the statewide ballot issue to implement a 25 percent renewable energy standard by 2025 in Michigan.
Joining them as hosts at Arbor Brewing Company at 114 East Washington St., and as backers were the business' owners Rene Greff and Matt Greff.
Voters across Michigan will see Proposal 3 on their ballots, and will be able to choose if they want a mandate that 25 percent of the electricity produced in the state would come from wind, solar, biomass and hydropower sources by 2025.
The majority of that goal likely would be accomplished through the expansion of wind farms, said Lisa Wozniak, executive director of the Michigan League of Conservation Voters, at the event Monday.
Rene Greff called endorsing Proposal 3 a "no-brainer" for Arbor Brewing Company.
"We believe this is truly a non-partisan initiative," Rene Greff said.
Matt Greff said he believes Proposal 3 would keep a check on utility companies, and ties in to the investments he's put in at his businesses.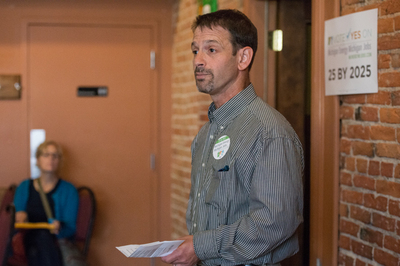 Courtney Sacco I AnnArbor.com
The couple also owns the Corner Brewery at 720 Norris St., in Ypsilanti. Both brew pubs recently installed solar panels on their roofs.
Though the system has not been running long enough to collect data, the system is expected to offset gas usage by 40 to 50 percent and electricity usage by 15 to 20 percent.
"Even with the solar panels, we still pull electricity from the grid," Rene Greff said. "We are convinced this will sustainably reduce rates over time."
Proposal 3 would increase the current renewable energy goal in Michigan, which is 10 percent by 2015.
About 3.9 percent of the energy produced in Michigan comes from renewable sources, said Sarah Mullkoff, Midwest Energy and Climate Policy Coordinator for the National Wildlife Federation.
There is a clause in the ballot proposal, introduced by Michigan Energy Michigan Jobs, that caps the amount a utility can increase its rates from renewable energy expansion at 1 percent per year.
A study conducted by Michigan State University predicts the passage of the proposal would lead to the creation of $10.3 billion in new investment in renewable energy, and would generate 74,495 "job years," with 31,513 of them coming in construction jobs and 42,982 coming in operation and maintenance jobs.
A "job year" is the employment of one worker for 12 months.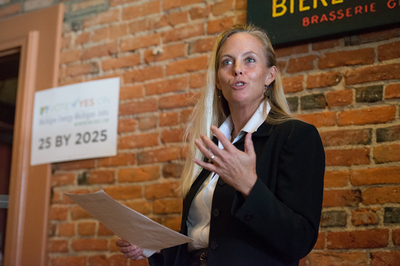 Courtney Sacco I AnnArbor.com
Several speakers at the Monday event cited efforts put forth by Illinois to implement a 25 by 2025 renewable energy standard. Illinois has reportedly reduced electricity prices by $176 million due to the effort.
In Michigan, utility companies are putting forward million-dollar advertising campaigns against Proposal 3.
"They are going to do and say anything to oppose Proposal 3. They want Michigan to stay addicted to coal," said Mike Garfield, executive director of the Ann Arbor-based Ecology Center
Staff and volunteers from Environment Michigan are asking business owners around Ann Arbor this week to display signs in their windows supporting the passage of Proposal 3 in the November election.
Monday night, they will be co-hosting a phone bank 6 p.m. at the Ecology Center at 339 East Liberty St. in Ann Arbor to call voters on the issue.
Amy Biolchini covers Washtenaw County, health and environmental issues for AnnArbor.com. Reach her at (734) 623-2552, amybiolchini@annarbor.com or on Twitter.