Posted on
Sat, Dec 5, 2009 : 4:05 p.m.
Ann Arbor's budget problems grow more imminent at City Council retreat
By Ryan J. Stanton
Ryan J. Stanton | Ann Arbor.com
Ann Arbor City Administrator
Roger Fraser
laid out a grim financial picture for the next three years Saturday and made it clear firefighter layoffs that officials have been discussing for several months will begin soon.
Fraser said more than $3 million in mid-year cuts need to be made within the next 30 days, and $396,803 of that total will involve immediate layoffs within the Fire Department. Fraser said he intends to begin delivering pink slips to 14 firefighters next week. Ann Arbor officials have been in heated discussions for several months over a proposal to lay off the firefighters by next July to shore up the city's budget.
Fraser also proposed a plan to save $811,475 by not filling several vacancies in the police department. Fraser said when the city offered buyouts to officers this year, it expected 18 to go, but 24 ended up taking the offer.
Fraser's grim report on the city's economic outlook came as department heads and City Council members gathered for a special retreat to talk about the city's future and how to live within the realities of a shrinking budget.
Fraser said it appears the city has little choice but to slash the budget by 30 percent over three years.
"To me, that's frightening," he said.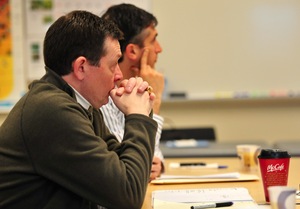 Ryan J. Stanton | AnnArbor.com
Fraser said going to voters to ask for more property taxes - or even a city income tax - isn't being proposed because there's little support in the community. He said it's his belief any revenue question would be ill-fated at this time.
"I think we have to talk about reducing the level of services that are provided," Fraser said. "My belief is that everything needs to be on the table."
Fraser said the city is facing a serious financial crisis that will need to be confronted immediately by trimming $1.58 million in recurring costs and $1.45 million in non-recurring costs in this year's budget. That only begins to address the problem, Fraser said, as the city projects a revenue shortfall this year that is $3.3 million worse than previously thought.
The projected shortfall for the next fiscal year beginning in July is another $5.4 million, Fraser said.
At those levels, the city would have to cut costs by an additional 4 percent this year, which is equal to laying off 39 full-time employees. Next year, the city would have to cut costs by 8 percent, which means another 64 jobs.
In addition to police and fire cuts, other mid-year adjustments proposed by Fraser involve cuts to tree trimming and stump removal services, decreasing staff time by adjusting work schedules, leaving other positions vacant, and decreasing money spent on conferences and travel.
Fraser also laid out the following 18 options for the City Council to consider as the city rethinks its services:
• Require leaves to be bagged by residents. • Eliminate general fund support for the parks system. • Outsource city legal services. • Stop general fund support for golf. • Contract with county for emergency management. • Eliminate human services funding. • Discontinue maintaining some parks. • Reduce solid waste millage (eliminate waste collection and maintain recycling). • Contract with the county for police services. • Sell some parks. • Institute street lighting special assessment districts. • Rescind parks budget reduction resolution. • Reduce or re-purpose general fund support for AATA. • Eliminate the Downtown Development Authority. • Change the way fire services are delivered. • Contract with county for parks services. • Defer uncommitted capital improvements. • Close recreation facilities.
Several of those options would require changes to the city's charter and a vote of the people, but Fraser encouraged council members not to let that become a barrier to considering them. Fraser said there must be no "sacred cows" - everything should be on the table.
Council members remained mostly silent during Fraser's presentation but acknowledged their concerns.
"I think we're on a path to do cuts rapidly," said Council Member Mike Anglin, D-5th Ward. "We have to come up with a stated amount of money in a relatively short period of time."
"We've spent a lot of time over the years ... coming up with some creative measures or efficiencies," said Council Member Stephen Rapundalo, D-2nd Ward. "We're at a point where I think we're ready to amputate part of the institution."
Ryan J. Stanton | AnnArbor.com
Roger Fraser said the city's financial struggles are the result of several factors, including continued declines in state revenue sharing and declining property tax revenues. Investment interest rates also are at or near zero percent, compared with previous years when the city earned $300,000 to $700,000.
Fraser said the Pfizer property will be fully off the tax rolls next year, which is another major blow to the budget. Revenues from traffic citations, new development review fees and parking meters also are down. Police Chief Barnett Jones said the city has 24 fewer people on the streets writing tickets, leading to the decline in traffic citations.
Fraser said the city must immediately challenge which government services should be continued, reconsider all special property taxes, work with employees to reduce costs and pursue more collaborative opportunities.
The city's two-year plan going into this fiscal year was to cut costs by 10 percent. But a new two-year plan laid out by Fraser today includes cutting costs by 22 percent, with another 8 percent in cuts in fiscal year 2012.
Proposed cuts outlined in the original two-year plan included closing Mack Pool, eliminating the Leslie Science Center subsidy, closing the Ann Arbor Senior Center, and restructuring the police and fire departments to eliminate 18 police officers and 14 firefighters.
The plan also includes eliminating wage increases, reducing outside legal services, reducing janitorial services and snow maintenance at city offices, installing new parking meters and eliminating various other positions. Fraser also proposed reducing human services funding by $260,000, but says now the city could save $1.3 million if it eliminates funding for human services programs altogether.
Police and fire services currently account for nearly 48 percent of the city's general fund budget. General government operations are the next biggest piece of the pie at 16 percent, followed by public transportation at 12 percent. Social services, parks and other expenses make up the rest.
Fraser said the city already has reduced staffing by nearly 25 percent over the last seven years, dropping from more than 1,000 employees to 746 by next year. He said future reductions will deeply impact the number and level of services.
Fraser also predicted today general fund revenues won't return to 2008 levels for more than five years.
"We've managed for a long time to make some budget cuts, keep things under control budget-wise, and actually do very well," said Mayor John Hieftje. "And we haven't had to affect our services ... but I don't know how we can do that anymore."
Commenting on the tough times facing all of Michigan, Hieftje added, "Hopefully there's light at the end of the tunnel, but I haven't seen it yet."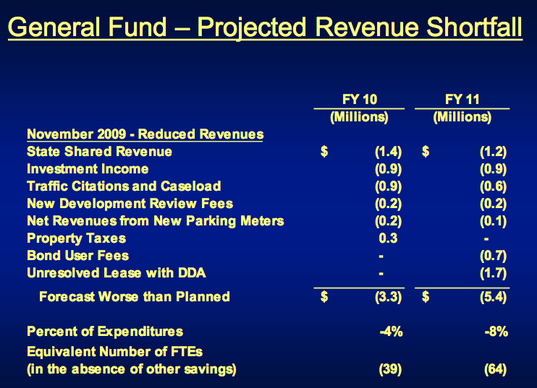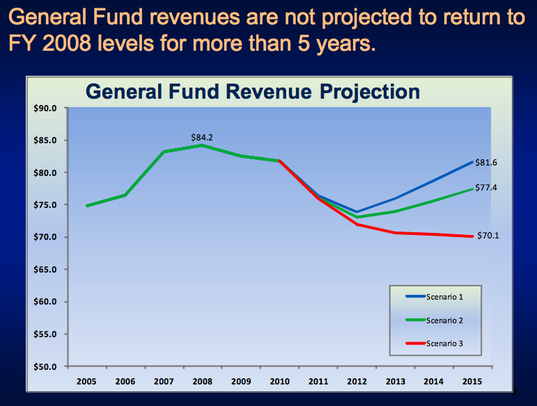 Ryan J. Stanton covers government for AnnArbor.com. Reach him at ryanstanton@annarbor.com or 734-623-2529.