Posted on
Fri, Apr 6, 2012 : 3:53 p.m.
Ann Arbor education advocates take on Snyder's spending policy
By Danielle Arndt
Two Ann Arbor education advocates entered the ring against Gov. Rick Snyder in the most recent edition of Bridge Magazine.
In an opinion piece, Ann Arbor Board of Education Trustee Glenn Nelson and outgoing teachers union president Brit Satchwell accused Snyder and his Republican colleagues of retreating from public education and "rushing" Michigan children to the bottom of the education "heap."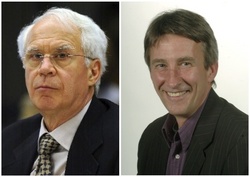 They wrote Snyder's policies strike "a new low in the priority given to K-12 education," calling the consequences "devastating" for Michigan children.
Nelson and Satchwell said 10 years ago, 3.67 percent of the state's personal income was allocated to K-12 education. Snyder's proposed budgets for 2013 and 2014 would dedicate an average of 2.82 percent, a decrease of 0.85 percent, equal to about $3 billion, they wrote.
In their Bridge Magazine column, Nelson and Satchwell said if Snyder had given the same priority to K-12 education as legislators did 10 years ago, it would have equated to an increase of nearly $1,944 per student.
Additionally, the column states that 10 years ago, Michigan fourth-graders scored better than those in 23 and 24 other states in reading and math, respectively; where now, Michigan students are better than just 15 and nine other states.
Nelson and Satchwell said voters must look for policymakers who will "support education, ensure a bright future for our children and give our state the competitive work force we need to attract the jobs of the future."
According to the Center for Michigan, in 2000, the state was ranked 10th in the nation for education spending. By 2009, Michigan had fallen 14 positions and was ranked 24th for spending on education.
The Center for Michigan also reports in fiscal year 2011, the state spent 41 percent, the largest portion of its general fund revenue ($11.034 billion), on K-12 education. Universities and community colleges received 6 percent ($1.549 billion) of available state tax dollars.
Snyder said, in a column opposite Nelson and Satchwell's, that in general fund revenue and state aid dollars combined, Michigan budgeted for 62 percent of its available funds to be allocated for education.
He said after a year of "laying the groundwork" to restore "fiscal discipline" to Michigan, the state is now ready to make the "tough but necessary decision to 'rebase' the foundation allowance in the current-year budget."
"This move was critical in getting the budget back in structural balance," Snyder wrote. "Working together, we're restoring stability to Michigan's education system so that our children and theirs have boundless opportunities and are equipped to thrive in the global economy.
Read the complete Bridge Magazine report here.
Staff reporter Danielle Arndt covers K-12 education for AnnArbor.com. Follow her on Twitter @DanielleArndt or email her at daniellearndt@annarbor.com.