Posted on
Wed, Jul 18, 2012 : 2:55 p.m.
Early customers at Ann Arbor's new underground parking garage: 'Beautiful' and smells 'brand-new'
By Ryan J. Stanton
Previous story: Library Lane parking garage set for partial opening for first day of Ann Arbor Art Fair
On its first actual day in operation, impressions of Ann Arbor's new underground parking garage range from "it's beautiful" to "it's hot and smells like paint."
Most are just happy for the additional parking downtown, which has made getting to Art Fair easier this year. But some patrons said the garage could use a few more fans, and some are finding out the hard way the elevators aren't yet functional.
"It looks awesome and it's pretty easy to go around. The only thing was the elevator," Canton resident Divya Ragunathan said while walking up two flights of stairs with luggage in tow to go work a booth in the nonprofit section at Art Fair.
Republic Parking has golf carts available to chauffeur anyone interested in avoiding the stairs, but only some are using the service.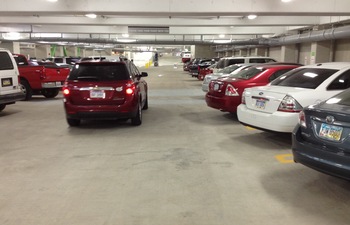 Ryan J. Stanton | AnnArbor.com
Crews worked feverishly to get the garage
ready for the opening day of Art Fair
. Until Tuesday, it was
uncertain whether it would open
in time, but it did — at least partially.
As of early Wednesday afternoon, the top two floors of the garage were filled up with cars, and more were starting to park on the third level. The lowest level was still blocked off.
Vehicles from more than a dozen different states were parked inside the garage, including some from Illinois, Ohio, Indiana, North Carolina, Georgia, South Carolina, Florida, New York, Maryland, New Jersey, Wisconsin, Minnesota and Pennsylvania.
Bob and Sheryl Lewandowski drove in from the Windsor area with their son Derek. They said it was relatively simple to pull into the garage and find a place to park.
"It's beautiful," Sheryl Lewandowski said. "I was surprised when we first came here. I didn't even know that was there. It just had a little bit of an odor. That's the only thing. A brand-new kind of odor. It probably needs a bit more air circulating, maybe a fan down there."
Derek Lewandowski called it nice and spacious.
"You have a nice amount of room," he said. "Actually the stairs are really nice, too, because it allows the sunlight to come down so you don't feel so underground."
Republic Parking and the Downtown Development Authority received a temporary certificate of occupancy from the city to operate the garage for Art Fair, which runs through Saturday.
A final certificate of occupancy is still pending for the garage, which has 711 parking spaces on four levels below ground, plus 52 surface-level spaces. It's accessible off southbound Fifth Avenue and northbound Division Street, between Liberty and William streets.
Joe Morehouse, the DDA's deputy director, said the garage was working out well. He said the surface parking spaces were being used as handicapped parking.
Republic Parking's Teresa Ricker worked as a greeter at the Fifth Avenue entrance ramp on Wednesday, waving motorists into the new structure.
"Some of them had a lot of questions. Some of them have never seen an underground parking structure," she said. "So it's great. Most people are very excited."
Karen Faletti and her daughter Jenna drove in from South Lyon for Art Fair on Wednesday and were relieved to find available parking in the new garage.
"We just got here and we were driving around town for like a half hour, then they waved us in here," Faletti said. "It's great for today because we could not find a place to park. It's nice and clean and brand-new obviously. Other than that, it's a parking garage."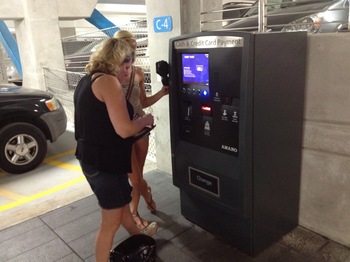 Ryan J. Stanton | AnnArbor.com
Faletti paid the $12 premium Art Fair rate at an automated pay station that actually talked her through the process step by step.
"It's self-explanatory for a first-time user," she said of the machine.
Her only critique was she thought it could be easy for some to miss the ticket that motorists are supposed to pull as they go into the garage.
"You have to pay attention," she said. "The thing says to be sure to take your ticket with you. Maybe as an improvement they could have something more eye level."
Stephen Smith, Republic Parking's information technology and operations manager, was on the scene making sure all of the high-tech equipment inside the garage was working smoothly.
"From an IT nerd's point of view, there's a lot of toys to play with and get working here, and a lot of unique, fun challenges to make happen," he said.
The Library Lane garage is the first parking structure to tie into the city's fiber optic system. That allows Republic Parking to reliably transmit a wide range of information back to a central database at the Ann and Ashley parking structure.
"It's pretty neat," Smith said. "It's our most sophisticated network that we've ever done. It was our first fiber-optic installation, so every level is connected by fiber optics.
"It's a pretty IT-intensive installation," he added. "As you see, we even have electric vehicle charging stations. Those talk to the cloud through a company called PowerDash. And we have more pay stations than we've ever had in any installation downtown."
Smith said the security has never been more advanced when it comes to the pay stations, which meet the latest payment card industry data security standards.
"It's just measures I need to take as an IT manager to comply with the credit card security, so it is a really exciting project," he said. "I really enjoyed working on it."
Ali Ramlawi, owner of the nearby Jerusalem Garden restaurant, said his business increased from the steady stream of people coming and going along Fifth Avenue. The street and sidewalks were closed for nearly two years up until recently while the garage was built.
"You definitely get people walking north on Fifth now. It's not just a desert oasis here," Ramlawi said from an outdoor patio packed with customers.
"We've got increased visibility. Business has picked up 15 to 20 percent since the road reopened, so it's good. Is it worth all the hell we went through to get here? Probably not."
Ryan J. Stanton covers government and politics for AnnArbor.com. Reach him at ryanstanton@annarbor.com or 734-623-2529. You also can follow him on Twitter or subscribe to AnnArbor.com's email newsletters.