Posted on
Sun, Apr 8, 2012 : 7 a.m.
AnnArbor.com thanks those donors and volunteers who made the 2011 Warm the Children campaign a success
By Ann Dwyer
There have been a lot of stories about generosity in our community. Whether it was replacing stolen sports equipment for the disabled or helping victims of the Dexter tornado, people have been quick to offer time and money. And it's that kind of generosity that made Warm the Children another huge success this past season.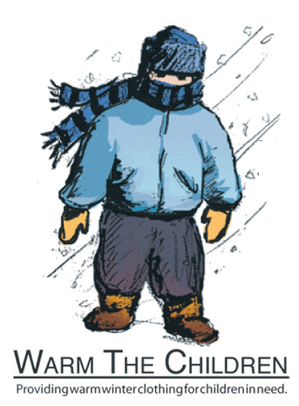 Warm The Children is a program whose mission is to provide new warm winter clothing for children in need. The mission is led by AnnArbor.com and accomplished through the cooperative effort of AnnArbor.com, the Ann Arbor Area Community Foundation, United Bank & Trust, social service agencies, schools, volunteer shoppers, cooperating retailers and our national partner, Warm The Children, Inc.
Although it was a warm winter, the need for cool-weather clothing was still necessary. With your donations, Warm the Children got items such as jackets, socks and gloves to kids in need. Thanks to the generosity of individuals, groups and businesses, $205,127.28 was raised during the 2011 campaign.
During the 2011 Warm the Children season, 3,202 children were referred to the program and 2,824 of those children received new warm winter clothing. The remaining children were not helped because they declined out of a change in financial status, moved or were unable to be contacted.
Besides the donations from readers, the program could not exist without the help of the hundreds of volunteers donating their time as shoppers, assisting families during their visit to local Target stores with a $90 purchase order per child. With assistance from personal shoppers, families are guided toward the most appropriate and useful purchases.
Volunteers include hundreds of individuals as well as members of the following service groups and organizations:
Ann Arbor Links
Ann Arbor Optimist Club
Ann Arbor Regent Hotel & Suites
Brighton Kiwanis Club
Chelsea Kiwanis Club
Community Driven Credit Union
Conlin Travel
Dexter Kiwanis
Eastern Michigan University Baseball Team
Grace Church
Hamburg Kiwanis
Junior League of Ann Arbor
Kiwanis Club of Ann Arbor
Kiwanis Club of Ypsilanti
Main Street Area Association
Manchester Kiwanis Club
Pinckney Chrysler Dodge Jeep Ram
St. Mary Magdalen Church
St. Nicholas Philoptochos Church
St. Paul Missionary Baptist Church
St.Mark Lutheran Church
Notre Dame Club of Ann Arbor
United Bank and Trust
Vi's Keystone Friends
Western Kiwanis and Redeemer Lutheran Church
Whitmore Lake Kiwanis Club
Ypsilanti Rotary Club
Ypsilanti Area Jaycees

Every year gets better and better, and we're already looking forward to the 2012 campaign. If you would like to donate to Warm the Children or are interested in volunteering in 2012, please visit annarbor.com/warmthechildren/.