Posted on
Mon, Mar 28, 2011 : 11:35 a.m.
Share your Hash Bash photographs and memories with AnnArbor.com
By AnnArbor.com Staff
Ahead of this Saturday's 40th annual Hash Bash in Ann Arbor, we're seeking your memories and photos of the event that started in 1972 as a cause celebre for the release of activist John Sinclair and evolved into part giant party, part rally for the legalization of marijuana.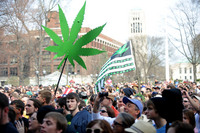 We're looking for voices to help tell the story of the Hash Bash and how it's changed. Were you at the original rally? Do you have photos from past years to share? Have a great memory or story to tell?
Email reporter Ryan Stanton at ryanstanton@annarbor.com. We'd like to use your submissions as we prepare our coverage of this weekend's event.
As longtime residents may remember, the first Hash Bash was held on the University of Michigan Diag in 1972, in celebration of the success of the "Free John Sinclair" movement. Sinclair was arrested and sentenced to 10 years in prison for possessing two marijuana joints in 1969. John Lennon and Yoko Ono held a "Free John Now" rally at Crisler Arena in Ann Arbor in December 1971. Sinclair was released three days later.
Organizers at the time said they hoped the event would become an annual tradition. What does that tradition look like today? Tell us.