Posted on
Mon, Jan 16, 2012 : 7:12 a.m.
Argo Dam advocates to describe benefits of headrace reconstruction at forum
By Ryan J. Stanton
Members of the public are invited to hear a talk about the newly reconstructed Argo Dam headrace and other related issues at a forum Wednesday night.
The dam bypass channel on the Huron River recently underwent a major transformation as part of a $1.17 million project funded by the city of Ann Arbor.
Donald Gray, professor emeritus of civil and environmental engineering the University of Michigan, and Joe O'Neal, principal of the O'Neal Construction Co., are expected to present a talk on the modified headrace at 4:30 p.m. Wednesday.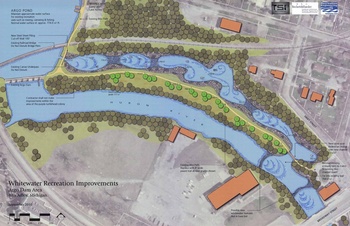 The meeting takes place inside Room 2355 of the
GG Brown building
, 2350 Hayward St., on U-M's North Campus. The building can be entered off Hayward Street near Beal Avenue.
Parking is available at public pay lots on Hayward Street.
The following narrative is included in a flier announcing the event:
"A novel bypass was constructed below Argo Dam on the Huron River. The bypass provides a way around the dam for thousands of canoes and kayaks that annually make the trip downriver from Argo to Geddes Ponds. The bypass consists of a series of connected, stepped-pools that start at the impoundment behind the dam and gradually descend, eventually discharging to the Huron River below the dam. The pools have replaced a former headrace canal that supplied water to a hydropower station below the dam. The headrace canal was held in by an earthen embankment that paralleled the river.

"The stability of the embankment and the adequacy of drainage measures became an issue in a controversy that arose as a result of efforts by some to remove the dam altogether. Other geotechnical considerations arising from this controversy include the fate and flow direction of the Huron River, and the need for river training measures, if the dam were to be removed.

"Both presenters were heavily involved in efforts to save Argo Dam and to promote a bypass around the dam for canoes and kayaks. They will jointly discuss these efforts and describe features of the new bypass."
Ryan J. Stanton covers government and politics for AnnArbor.com. Reach him at ryanstanton@annarbor.com or 734-623-2529. You also can follow him on Twitter or subscribe to AnnArbor.com's email newsletters.