Posted on
Sun, Oct 2, 2011 : 5:55 a.m.
Throwback jerseys, first-ever night game part of strategy to market University of Michigan athletics
By Kellie Woodhouse
Melanie Maxwell | AnnArbor.com
Throwback uniforms. The first-ever night game in Big House history. A $20 million pair of scoreboards. A new coach.
Michigan football fans' heads are spinning.
And that's just the way University of Michigan Athletic Director Dave Brandon wants it.
"We're working real hard to make these events bigger and better and more exciting," Brandon said in a recent interview with AnnArbor.com. "We want to have our student athletes feel the adrenalin rush that comes from knowing that they're competing in front of a friendly, lively, excited crowd."
Ever since the former Domino's Pizza CEO assumed the reins of U-M's athletic department, things have been just that: Exciting.
"One of the things I wanted to do early on is to challenge the status quo and to try to come up with some ways to send the message that we were willing and interested in doing something different," Brandon said.
Two weeks into his job, Brandon decided that what U-M athletics really needed was a breath of fresh air. So he conducted a national search for a Chief Marketing Officer, a rare position in college athletics.
He grew the marketing staff from a team of three people to an operation of more than a dozen, adding several new hires —including someone who specializes in social media— and bringing the ticketing and online divisions under the realm of marketing.
Since Brandon's switch from pizza to scoreboards, U-M athletics has significantly upped its online and print advertising for all of its sports and has begun embracing newer forms of marketing, like Twitter and text messaging.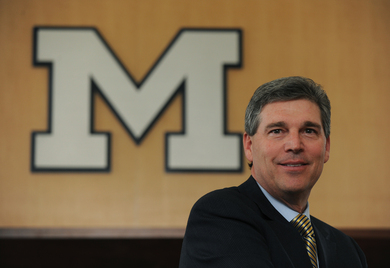 Lon Horwedel | AnnArbor.com
Brandon declined to release the amount of marketing expenditures for this year's fall athletic season.
"When I got here, we had three people in our marketing department and they had very little budgeting allocations. You just didn't have the resources to do very much and you didn't have strong leadership," Brandon said. "Marketing wasn't an area that was emphasized in any way. Mostly there were three people working on posters and programs and making sure there was a half-time show lined up."
As he reorganized the department, Brandon realized he also had to redefine marketing within it.
Brandon said he knew successful marketing was more than creating posters, but his challenge was how to make that knowledge come to life in a way that would really impress Wolverine fans.
"I decided that we were going to do the first night game," Brandon recalls.
But the concept didn't stop there.
For the first night game to be the success he envisioned, it had to be the right formula of old and new, of familiar and unfamiliar.
The first ingredient would be playing Notre Dame, an age-old rivalry that dates back to 1887 and that sparked in 1947 during a heated AP title dispute and flared in 1982 when the Irish beat out Michigan during Notre Dame's first-ever night game.
But Brandon had to up the stakes: Legacy uniforms.
"The thought occurred to me that wouldn't it be a fun opportunity, in primetime, to have something really special to celebrate the past," Brandon said. "So I immediately drove down to South Bend and met with my counterpart down at Notre Dame and shared my idea with him."
The end result was a fourth-quarter upset that ended in Michigan's 35-31 win over the Irish, witnessed by a record-setting attendance of 114,804, the largest crowd in the history of college football.
The initial printing of 9,000 Legacy T-shirts exclusively sold at the M-Den sold out in record time, necessitating a waitlist for the next printing. Brandon said he did not know exactly how many T-shirts have been sold to date.
Legacy. Record-setting. Largest. First-ever. Sold-out.
Those are words that marketing-types like to hear, and this year they're buzzing all around Michigan Stadium.
"It certainly draws a lot of attention," Brandon said of the historic night game with an unprecedented attendance in an unmatched arena. "Marketing is somehow figuring out how to create one of the five largest television audiences for a college football game in NCAA history… according to ESPN."
Oops, forgot that one.
Aside from the hype of the night game and the legacy uniforms, Brandon decided to elevate Michigan Football even further by equipping the stadium with a $20 million pair of high-definition scoreboards.
The scoreboards were installed in the spring and debuted this season.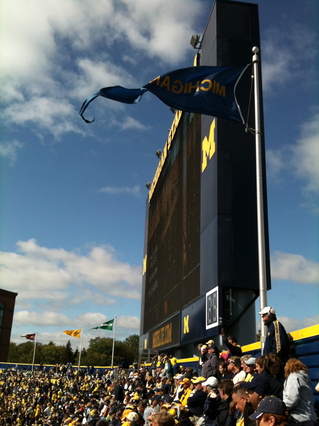 Kellie Woodhouse | AnnArbor.com
"We have these giant new unbelievable... toys: New scoreboards. So instantly those are re-creating the atmosphere," said CMO Hunter Lochmann. "That right there changes the dynamics of event presentation."
Lochmann, a former marketing guru with the New York Knicks NBA team, assumed the CMO position Brandon created last winter.
The high-definition scoreboards also allow the athletic department to advertise other sports during football games. Already, they've been used to promote golf, soccer and volleyball.
"We have these beautiful new video boards, and video tells a good story, so why not show the 28 other teams participating up there?" Lochmann said.
Lochmann is also taking previously empty television commercial break or halftime lulls and highlighting "legends," successful former U-M athletes.
The objective, Brandon said, is to raise the attendance of U-M athletic events 10 percent across the board. And although Lochmann said he is still compiling numbers for this season, preliminary reports show that attendance at U-M volleyball, men's and women's soccer and football is up from last year. Lochmann declined to release the preliminary numbers.
Lochmann's and Brandon's idea is to make every game, even seemingly predicable duels against Eastern and Western Michigan, an event with a capital E.
"For us, it's innovation, it's change," Brandon said. "The marketing and the wow and the excitement are feeding that engine and creating a new environment."
The new environment, Brandon says, is cyclical. A hyped-up program not only gets more fans, but it gets better recruits. Better players make for more wins, and more wins make for happy fans.
To get there, though, Brandon's new team needs to keep mixing it up.
"This is a school steeped in some of the most unbelievable tradition in college athletics. We're never going to shy away from that, but we're going to take chances," Lochmann said. "You're going to see… things we've never done before."
Lochmann continued: "We have the green light to try new things."
Kellie Woodhouse covers higher education for AnnArbor.com. Reach her at kelliewoodhouse@annarbor.com or 734-623-4602 and follow her on Twitter.