Posted on
Mon, Feb 13, 2012 : 5:57 a.m.
Heartbreaking need: Up to 600 applications expected for Avalon Housing's 75-spot waitlist
By Janet Miller
Tabitha Byrd is trying to get her ducks in order.
The 31-year-old mother of two was in crisis when her father traveled to Boston two weeks ago to bring her home to Ann Arbor, setting up two twin beds and a crib in the living room. Byrd is sharing the house with her father, stepmother and two teenage sisters.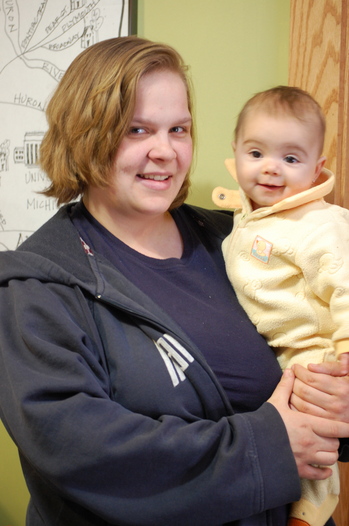 Janet Miller | For AnnArbor.com
While she is grateful for the help, it's not easy, Byrd said. "It's an inconvenient situation." She has found a child care job, has enrolled at
Washtenaw Community College
for spring classes and wants to find her own place where she can raise her daughters, who are 9 years old and 5 months old.
She's hoping an application for a spot on the waitlist of Avalon Housing, Inc. will be her ticket to independence and a new life. "I just want to do for myself, I don't care if it's a house, an apartment or even an RV. I just want to be able to support my family on my own," Byrd said.
She is not alone.
Applications for one of the 75 spots on the Avalon waitlist have been spilling in since the two-week window opened Feb. 6. In just two days, 70 applications were submitted, and 400 to 500 more are expected by the Friday deadline. "The demand is so huge and our turnover is not great," said Carole McCabe, executive director. The waitlist will be created through a computer-generated lottery.
While Avalon decided creating an annual waitlist is the best way to fill openings, it's still heartbreaking, McCabe said. Employees who staff the desk and hear applicants' stories go home crying, she said. Many applicants live in shelters or are homeless. Many found temporary refuge in the homes of family and friends. Some pay rent but are living on the edge, spending 75 percent of their income on rent and are one car repair or health bill away from being evicted.
Avalon Housing is a private nonprofit that offers housing to those who can least afford it, including those who are chronically homeless and homeless youth. "Our philosophy is housing first," McCabe said. "We believe housing is a basic human right…. We take pride in screening tenants who most landlords screen out." Avalon also offers support services.
Applicants must have a source of income and earn less than $18,000 annually for singles ($25,000 for a family of four). The average annual household income for Avalon residents is $11,000, McCabe said. Some housing is targeted for specific groups, such as survivors of domestic violence or the chronically homeless.
Avalon has 280 units at 24 sites, from small apartment complexes to historic duplexes spread around Ann Arbor neighborhoods. "We're integrated into neighborhoods, which is what the community and the consumers prefer," McCabe said. "It would be more efficient to have 200-unit building, but that's not as healthy of a way to live."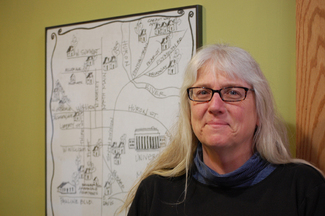 Janet Miller | For AnnArbor.com
It's not a giveaway program. Tenants must pay rent - and have been evicted when they stop - based on family size and location. A single person in a sleeping room or small efficiency pays $260 a month while a family will pay $414 for a three-bedroom townhouse at Carrot Way Apartments. The majority of tenants work at least part time, although others, such as those with a mental illness, are on Social Security, McCabe said.
One way to keep rents low is to hold no debt on its properties, McCabe said. Avalon uses federal and state sources, such as low income housing tax credits and funds from the Michigan Housing Development Authority, to buy properties and rental income, grants and fundraising are used to operate the properties.
There are two new properties in the pipeline: Apartments at 1500 Pauline will be demolished and replaced by a 32-unit complex, and houses on North Main Street will be demolished and replaced by a 39-unit project which will include space for so-called "work force housing," where rents will be below market but higher than other Avalon housing prices. Both are expected to be opened to tenants in 2013 and are expected to increase the size of the 2013 waitlist, McCabe said.
With 500 to 600 people just wanting a spot on a waitlist, the need is obvious, McCabe said. "We grow slowly and steadily, but we try not to get ahead of what we can support." The Washtenaw Housing Alliance produced a report that said 500 more affordable housing units are needed to meet demand, she said.
In the meantime, Byrd is hoping her name will be on the waitlist. She's looked at rentals around Ann Arbor only to learn that most are out of her price range. The couple of properties that looked affordable required a good credit history. She has none, she said. "I'm keeping my fingers crossed," she said. "All I can do right now is try and get my duckies in order."