Posted on
Sun, Oct 24, 2010 : 6:03 a.m.
Ban of assistant attorney general from University of Michigan campus raises questions about trespass policy
By Juliana Keeping
University of Michigan police officers issued a trespass warning to Michigan Assistant Attorney General Andrew Shirvell last month that bans him from U-M's 3,000-acre Ann Arbor campus. That ban is indefinite, and U-M is under no obligation to let Shirvell visit campus again. Shirvell, a U-M alumnus accused of harassing the university's openly gay student body president for months, has maintained his actions constitute protected speech guaranteed by the First Amendment.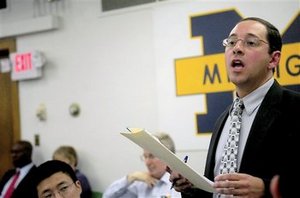 He is among at least 3,300 individuals who can be arrested if they step foot on U-M property. Most of those trespassed by U-M are campus outsiders who have been charged with a crime.
"This is not a court. It's not a criminal process," said U-M Deputy Police Chief Joe Piersante. "If you come back after the warning, you are subject to arrest."
The campus trespass policy grants the Department of Public Safety blanket authority to permanently ban individuals from the public university. Only one person, the director of campus police, can rescind or modify a trespass warning.
The Shirvell case has raised questions about civil rights and the trespass ordinance. "It seems to me there's a serious question as to whether the police has a legitimate basis for excluding him," said Robert Sedler, a Wayne State University law professor and civil rights attorney. "The simple fact that someone says 'I feel threatened' is not enough."
Shirvell isn't facing any criminal charges. But both Shirvell and Michigan Student Assembly President Chris Armstrong will be in court Monday, where a judge will decide whether to issue a restraining order to keep Shirvell away from Armstrong.
"Before we try him in the court of public opinion, let's see what the court decides on Monday in terms of factual information justifying a personal protection order," said Jay Kaplan, an attorney for the American Civil Liberties Union of Michigan.
Regardless of that outcome, the trespass warning will stand unless U-M Public Safety Director Ken Magee repeals it. Shirvell has asked for a meeting to appeal the Sept. 14 trespass warning, but one hasn't yet been scheduled.
Kaplan, who reviewed the trespass policy, said it raises civil rights concerns.
"It needs more objective criteria, so people exercising First Amendment rights aren't being banned from public places because the university or DPS doesn't like what they say," Kaplan said.
Some say that's exactly what happened to them.
At least one former employee and one former student have pending civil lawsuits against the school involving the trespass policy, among other issues. They claim they complained about their superiors before being labeled a threat and banned from campus, claims U-M attorneys deny.
Police and U-M officials say trespass warnings are always issued in good faith. They say it's their job to keep the campus of roughly 32,000 employees and 42,000 students safe from ill-intentioned outsiders and sometimes from each other.
The policy: A permanent ban
The trespass warning is a powerful tool. Those who violate it can face misdemeanor charges punishable by a maximum $250 fine and/or 30 days in jail, said Konrad Siller, an assistant prosecuting attorney for Washtenaw County. U-M police said they interview rather than arrest most trespassers they find on campus.
Between 2007 and 2009, roughly 200 to 300 individuals a year were trespassed, while 23 to 33 were arrested under the policy, records show.
"If they are stealing, if they are threatening people or assaulting people, then we read them the trespass to keep them from coming back on campus and committing crimes on campus and victimizing our community," Piersante said.
Each of U-M's 56 sworn police officers have discretion to read or mail trespass warnings. The policy permanently bans a person from campus and various other properties throughout the state and nation. Or police can ban individuals from smaller areas like a building floor, a whole building or a section of campus. Shirvell, for example, is now prohibited from stepping foot on any property owned or managed by U-M, said Diane Brown, a campus police spokeswoman. That includes the University of Michigan Health System and assorted clinics. Once issued, the person ticketed can request a hearing to present his or her case to Magee in the hopes of getting the warning modified or rescinded.
"We have offered the appeals process to be more user-friendly to our community, basically," Piersante said. "There is no stipulation in state law that says you have to have an appeals process. State law says you are trespassing, then you are subject to arrest."
Individuals who disagree with their treatment can bring grievances to an elected, independent police oversight committee of U-M students, faculty and staff members. The committee's powers are advisory only. Magee, who declined to be interviewed for this story, often agrees to modify the warning for members of the campus community to a more specific area of campus, Brown said. Magee reports to an associate vice president at U-M.
Police officers at other campuses like Eastern Michigan University also have the power to trespass individuals from the school's property. And similarly, only the director of the EMU Police Department, Greg O'Dell, can reverse a warning after meeting with the trespassed individual. But unlike the trespass policy at U-M, which can ban a person "in perpetuity" from campus, trespass warnings from EMU expire after one year. There are currently 80 individuals trespassed from the EMU campus, O'Dell said.
U-M police say it's much more common to ban campus outsiders than alumni, students or employees. An AnnArbor.com analysis of three years of daily incident logs confirmed more typical examples included:
• Panhandlers found at the Michigan Union, the Diag, libraries, parking structures and other campus buildings have been banned. For example, police questioned a woman who was panhandling on campus in November 2008. She told police her friends were taking laptops from all over the university campus, then handing them off to another man for money or drugs. She was ordered not to return.
• People with no apparent business at the University of Michigan Health System are frequently trespassed. A man wandering around a floor of the University Hospital in January 2008 had a record for breaking and entering, escape from prison and receiving stolen property. Police trespassed him from the hospital. High-profile events sometimes lead to trespass warnings, records show.
• The April 20, 2008, Dalai Lama visit to the U-M campus drew a man wearing a T-shirt that read, "This shirt is a munition." Members of the crowd told police they overheard him making threatening statements against the spiritual leader. Campus police questioned him, confiscated his ticket and issued the man a trespass warning. He told police he had radioactive material in his car and planned to use it to make a nuclear random number generator. The trespass policy is also used on rare occasion on the school's own employees or students, police said. Some of those examples include:
• A student was trespassed at Michigan Stadium in August 2009 after sneaking in with a friend visiting from China. The student said Magee reversed the warning a few weeks later.
• A female lab specialist called campus police in April 2008 to report her former boss, a prestigious diabetes researcher, had spread false rumors about her attempting to destroy stem cell research involving mice, police documents show. Her job in his lab had been cut the previous year due to funding, and he asked her to stop visiting the lab, he told police. After she called, police trespassed the woman from the building where she formerly worked. The director of public safety modified the warning to include only the researcher's floor a few weeks later.
The trespass policy states officers should avoid issuing warnings to students, faculty and staff, except for "extenuating circumstances," described in the language of the policy as: "posing an immediate threat to others, criminal prosecution for other crimes, the Student Code of Conduct or other university disciplinary action."
---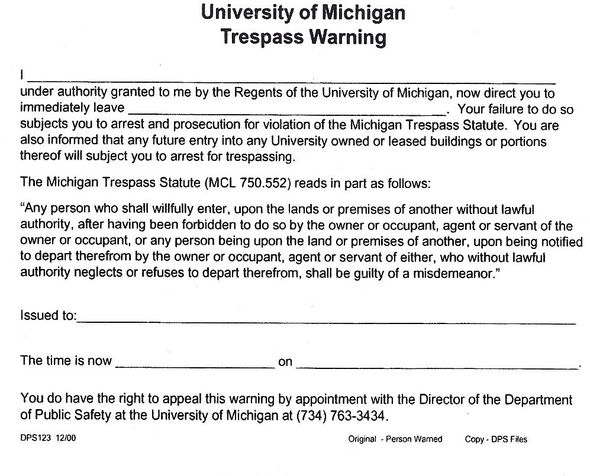 ---
Andrew Shirvell: U-M alumnus banned for harassment
Student leader Chris Armstrong described feeling threatened by Shirvell in a request for a personal protection order he filed on Sept. 13. The first openly gay student body president wrote Shirvell verbally attacked him on a Facebook page and a blog, and then in person at events and near Armstrong's off-campus home.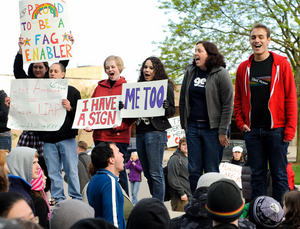 Armstrong said Shirvell's actions made him "unsure about my own safety," and he found them "incredibly distressing" and "hurtful."
The Department of Public Safety issued Shirvell a trespass warning Sept. 14 in person, though Brown declined to say where. Police based the trespass on complaints and an investigation involving Shirvell's "potential harassment, stalking or intimidation" of Armstrong, Brown said. A phone number for Shirvell phone listed in court documents was no longer working last week; his attorney did not return a call seeking comment. A spokesperson for the attorney general said the office can't comment on issues that occurred in Shirvell's personal life. Shirvell is on leave from his job, the spokesperson said. The Shirvell-Armstrong case may be the most high-profile example of someone from the U-M community who can now be arrested, ticketed or told to leave if caught on campus. But there are others. Andrei Borisov: Professor trespassed and arrested
Andrei Borisov arrived at the U-M Medical School in 1994 from the Russian Academy of Sciences as a renowned researcher in the field of cellular cardiology. Police trespassed the professor following a Sept. 4, 2008, termination hearing. Borisov, 52 at the time, left U-M in handcuffs. Police banned him from U-M for nine months before modifying the warning to exclude Borisov from certain buildings on the medical campus. Borisov filed a civil lawsuit in August 2009 in Washtenaw County Circuit Court. He alleges he gathered evidence between 2006 and 2008 that his mentor, Mark Russell, plagiarized his research in reports to federal funding agencies involving grants worth $1.7 million, and that Borisov was removed from projects without prior approval from the funding agencies. A police report states two campus officers were asked to be present at a Sept. 4, 2008, termination hearing on the third floor of the Medical Science Research Building, where Borisov worked in the department of pediatrics. At that meeting, department chair Valerie Castle told Borisov there were concerns about his behavior, including "making comments that were perceived to be threatening," and "following a staff member to their vehicle," the police report states. In his lawsuit, Borisov says that behavior was fabricated to get rid of him and silence his allegations of fraud. Castle told Borisov he could resign or lose his job, according to the police report. After the meeting, confusion ensued when police escorted Borisov to his office to clear out his personal belongings, a report states. Police described Borisov as acting suspicious and wrote they told the professor he would need to make an appointment later to determine which items were his and which belonged to the university. The report says Borisov charged two campus officers and was arrested for trespassing. Both Borisov and an officer received medical treatment following the confrontation, the report states. Later, prosecutors charged Borisov with attempted assault of a police officer, disturbing the peace and resisting and obstructing police. A jury acquitted him of those charges in April 2009. Separately, Borisov sued his former colleagues for defamation, fraud and false imprisonment. He has asked for a jury trial. In their response to Borisov's lawsuit, U-M attorneys say the professor's performance hadn't met expectations for two years. Due to the criminal charges filed following the confrontation, an offer for a job in a different university department was withdrawn. U-M officials won't comment on the case due to the pending litigation, and Borisov declined to comment. Both the U-M Ann Arbor chapter of the American Association of University Professors and members of the university's faculty governance committee investigated the incident.
A 20-page April 2010 AAUP report concluded the university infringed upon Borisov's academic freedom. The union supported Borisov's claim that he was falsely accused of threatening behavior, the report states. A 55-page report by a panel from within the Senate Advisory Committee of University Affairs also supported Borisov. SACUA never adopted that report. In a March 2010 letter to former SACUA chair Michael Thouless, then-Provost Teresa Sullivan called the report "one-sided," as well as "unfair, unwise and harmful." She pointed out those being accused of misconduct by Borisov couldn't participate in the group's investigation due to his civil lawsuit.
Linda Martinson: Student deemed a threat At 54, Linda Martinson said she was thrilled to begin an accelerated second career nursing program at U-M.
But in early October 2007, about a month after she began the program, Martinson complained a clinical professor had created a hostile learning environment and asked for a transfer, she said.
The relationship between Martinson and her professors, supervisors and fellow students deteriorated rapidly after that, court documents allege.
Photo courtesy of Linda Martinson
Over the next year, campus police issued Martinson three trespass warnings, and the School of Nursing expelled her.
Court documents show e-mails circulated among nursing school personnel and students in the fall of 2007, calling Martinson's potential as a nurse into question.
Classmates described Martinson as difficult to work with, a poor group member, erratic and threatening, the documents show. Examples of that behavior from student e-mails to nursing school personnel included arguing with School of Nursing group members during assignments, talking in close proximity to them, and creating an "air of discomfort," during group assignments and study sessions.
A civil lawsuit filed by Martinson in federal court in September 2009 alleges nursing school personnel solicited those students' complaints "to try and create a false impression of an emergency to get an immediate expulsion."
E-mail exchanges in October and November 2007 indicate discussion occurred among high-ranking U-M officials about whether Martinson could be expelled under a mental health withdrawal policy or for threatening behavior.
If she couldn't be expelled for mental health reasons, a review could take place to determine whether Martinson's actions posed an immediate danger to campus, the director of the office of student conflict resolution wrote to the vice president of student affairs, a university attorney and others in an Oct. 17, 2007, e-mail.
A police report shows nursing personnel called campus police to stand by at a meeting for a potentially "violent person" the same day. An associate dean told Martinson she made unauthorized and unsupervised visits and argued with staff on the hospital floor where her clinical took place, in violation of school policy, the police report states. Police read Martinson a trespass warning banning her from that floor, and the associate dean told her a review board would be investigating her conduct, the police report states.
"The students and staff are complaining about her and feel that she might become violent; however, no threats have been made by Ms. Martinson at this time," the police report states.
Due to the pending lawsuit, U-M officials won't comment on the case.
Martinson tells a different version of the events.
She said campus police escorted her to the Oct. 17, 2007, meeting from a classroom where had been taking a test.
"I felt absolutely horrible," Martinson said. "I had no idea what was about to take place. I knew the chance of me surviving whatever they had in store for me was slim."
Martinson got a second trespass warning that banned her from all university buildings on Nov. 13, 2007, three days before she was expelled. She appealed the decision to expel her, but it was upheld on Aug. 28, 2008, her suit states.
She received a third trespass warning in the mail dated Aug. 28, 2008, banning her from the entire campus "because your behavior has been perceived by persons on the Ann Arbor campus of the University of Michigan as threatening and disruptive," the letter signed by former campus police director William Bess states.
Martinson, now 57, denies she was a threat to anyone.
After her dismissal, she filed multiple lawsuits in Washtenaw County Circuit Court against students in her program, but later dropped them.
Her federal civil lawsuit against U-M and a number of the nursing personnel alleging violations of her due process rights is pending.
Magee modified all three trespass warnings in 2009, records show. Martinson is still banned from the Fleming Administration Building, School of Nursing buildings and the U-M Medical Center, unless she has a medical emergency or is seeking treatment, a Sept. 25, 2009, letter from Magee to Martinson states.
ACLU: Room for improvement in policy
Those and other examples have Kaplan of the ACLU advocating for U-M to amend its policy.
The current policy has room for error and needs more objective criteria for trespassing and a more meaningful appeals process that's not solely at the discretion of the public safety director, he said.
And because society reveres its public universities as forums for the free exchange of ideas, there are heightened concerns about banning individuals from one, Kaplan said.
"The university has an interest in assuring students and staff on campus are safe from physical harm," Kaplan said. "We don't want to utilize one's speech that doesn't cross the line as a means to bar someone from the campus."
AnnArbor.com reporter Juliana Keeping can be reached at julianakeeping@annarbor.com or 734-623-2528.