Posted on
Tue, Jun 14, 2011 : 8:29 p.m.
Black bear sighting confirmed near Dexter
By Ben Freed
The Washtenaw County Sheriff's Department has confirmed that there is at least one black bear in Washtenaw County. The confirmed sighting was in Webster Township in the area of Mast and Huron River Drive.
This confirmation comes after three bear sightings on Saturday, two at Hudson Mills Metropark, and one at a home in a subdivision just across Dexter-Pinckney Road from the park.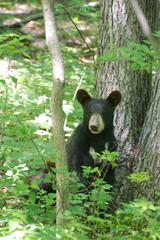 Picture Courtesy Washtenaw Sherriff's Office
According to the Sherriff's office, the bear that has been sighted is believed to be a cub, leading the Department of Natural Resrources to believe that the mother may be in the area as well.
Scott Koch was bringing some shrubs to the compost pile behind his house Saturday evening when movement in the woods caught his eye. Living across the street from Hudson Mills Metropark, Koch has seen his share of foxes, mink, and other animals, but he said he could tell this was different.
"I had to take two or three takes to figure out what it was," Koch said. "It wasn't hurting anybody and it was kind of a cute bear."
According to Koch, the bear started heading to his neighbor's house, but was startled by something and climbed up a tree in his yard.
Lynn Koch, Scott's wife, called 911 and two Sherriff's deputies responded to the call. The deputies were unable locate the bear and were unable to confirm the sighting.
However, a new sighting Tuesday - accompanied by photographs - was confirmed.
According to Koch, the bear is about 4 feet long, but appeared to reach about 6 feet when it stood on its hind legs.
The Sherriff's office is advising residents to secure all trash in order not to attract the bears, and reminds residents that hunting black bears is illegal in this area. Residents are instructed to not attempt to capture the bear.
Ben Freed is a summer intern at AnnArbor.com. You can reach him by email at benfreed@annarbor.com or by phone at (734)-623-4674. Follow him on Twitter @BFreedInA2.