Posted on
Wed, Nov 18, 2009 : 10:29 a.m.
Ypsilanti City Council approves beekeeping ordinance
By David Wak
Ypsilanti residents can now keep bees in the city, provided they follow a few rules.
The City Council voted 7-0 Tuesday to approve the measure, a month after the council delayed action to further explore the ordinance.
The issue first came to light when resident Lisa Bashert was cited for keeping bees on her Grant Street property. Bashert then asked the City Council to allow beekeeping in the city.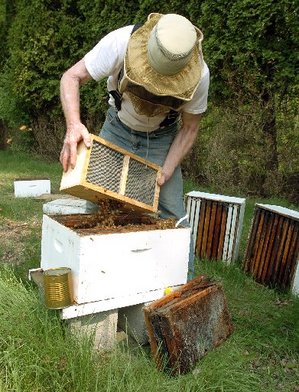 File photo
City Attorney John Barr said under the ordinance, two honeybee hives can be kept at single family homes and duplexes, but not at condominiums or apartment complexes. He also said the ordinance does not allow neighborhood associations to challenge beekeeping in their neighborhoods.
Bashert said she was elated the ordinance passed. She stressed honeybees are essential for agriculture and are in serious danger because of a phenomenon called colony collapse disorder, which she said is possibly caused by the use of agricultural chemicals.
"I want to thank council for all the time and work for this ordinance," she said.

Several supporters of the ordinance were on hand at Tuesday's meeting and welcomed the decision.
Resident Jamie Berlin said it's important to allow beekeeping to offset the recent loss of honeybee hives.
"In the face of colony collapse disorder, one colony can make a difference," Berlin said.
Council Member Lois Richardson voted in favor of the ordinance, but expressed some reservations. Richardson, who said she is allergic to honeybees, was concerned the increase in bee hives could cause more residents to be stung.
At the Oct. 21 council meeting, Richardson and Bashert debated whether honeybees sting people. At Tuesday's meeting, Bashert reiterated honeybees rarely sting, leading Richardson to question why most beekeepers wear protective suits.
Brian McEwen, a biologist and supporter of the ordinance, said honeybees are basically harmless. He said when they're gathering pollen from flowers, people can even pet them if they're gentle about it.
David Wak is a freelance writer for AnnArbor.com. Reach the news desk at news@annarbor.com or 734-623-2530.