Posted on
Tue, Feb 28, 2012 : 1:10 p.m.
Big Reds and Native American symbols: Should Milan eliminate them?
By Cindy Heflin
The Milan school board is once again wrestling with the issue of Native American symbols and imagery associated with Big Reds, the name of its sports teams.
Superintendent John Leacher said the board may consider a resolution on eliminating Native American symbols from uniforms and buildings in the district.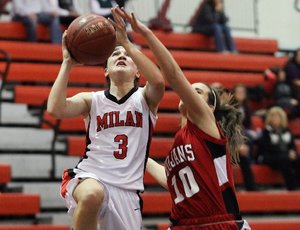 File photo
Although district officials say the nickname arose from the use of red uniforms and was not originally associated with Native Americans, images such as a spear and feather have become associated with teams over the years. Also, the high school gymnasium bears a Native American image.
Milan resident James Farrar has asked the school board at its last two meetings to adopt a policy banning the use of such images, the Milan News-Leader reported. At the most recent meeting, about 30 people spoke about the issue, many urging the board to keep the symbols, the newspaper reported. Others wanted the board to adopt a consistent symbol, noting that various teams have adopted their own symbols.
The district wrestled with the issue a decade ago and decided to keep the Big Reds name then, but did not adopt a policy on Native American imagery, the newspaper reported
Administration has been informally phasing out the use of the symbols in recent years, Leacher said.
Administrators are discussing the issue and consulting with legal counsel, Leacher said. It's not yet clear whether the board will take up the issue.
"I'm listening to what everybody has to say. It's a difficult thing to wade through and determine what's best for Milan and what's best for all of our residents. We don't want to offend anyone and we don't want anyone to not feel welcome in our schools."