Posted on
Tue, Sep 7, 2010 : 2 p.m.
Bill Riney climbs onto Washtenaw County Administration Building in one-man protest against unemployment
By Amalie Nash
Updated at 2 p.m. with new details.
Ypsilanti Township resident Bill Riney, who made an unsuccessful run for the state's 54th District seat in the August primary, climbed onto the Washtenaw County Administration Building Monday to stage a protest that lasted more than 12 hours.
Washtenaw County Sheriff's spokesman Derrick Jackson said it appears Riney used a ladder to get to the top of the building, and pulled the ladder up with him. He called police to report he was up there at about 5:30 p.m., but it's unclear exactly when he got onto the building, Jackson said.
Riney was eventually convinced to come down at about 6:40 a.m. today and was arrested, Jackson said.
Police said Riney came prepared for the protest - he brought a tent, sleeping bag, computer, water and other items onto the roof with him.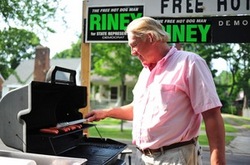 On Monday, Riney told WDIV by phone that he was taking a stand to help the unemployed.
"I care and love other people. I want to help them find jobs. I want them to have a better life," he told the TV station.
During the protest, officers from the Sheriff's Department, Ann Arbor Police, Ann Arbor Fire Department, Huron Valley Ambulance, crisis negotiation team and SWAT responded to the scene.
"We didn't know what his intentions were and needed to make sure to keep the community safe," Jackson said.
Around 5:50 a.m. today, officers climbed onto the building to talk to Riney face-to-face and search his belongings to make sure he didn't have any weapons, Jackson said. After about 90 minutes of talking, Riney agreed to come down on his own and was arrested without incident, Jackson said.
Riney complained of chest pain and was taken to a local hospital for evaluation, Jackson said. He was then expected to be transferred into the custody of the Sheriff's Department.
Prosecutors will review the case to determine possible criminal charges. Jackson said police are seeking trespassing charges, at a minimum. He said any decision on repaying the county for the resources used during the incident would be made during the court process.
This isn't the first time Riney, 56, has staged a one-man protest.
In June 2009 and again last November, Riney climbed into trees on his property roughly 30 feet off the ground to prevent utility company employees from chopping down white pine trees in his Edison Avenue yard. Company officials said the trees interfered with power lines.
Ultimately, Riney and International Transmission Company came to an agreement that would allow the company to cut the trees in the easement. Riney received roughly $10,000, and the company was required to reseed the turf and repair damage to the grounds.
Riney, known by many as the "The Free Hot Dog Man" earned a reputation two years ago as "The Obama Hot Dog Man" for taking his mobile hot dog operation into neighborhoods across Southeast Michigan during the Obama campaign.
In the August primary, Riney was one of six candidates vying for the Democratic nomination to replace Alma Wheeler Smith in the state House of Representatives. David Rutledge won with 38 percent of the vote, while Riney came in third with 13 percent.