Posted on
Thu, Sep 9, 2010 : 2:05 p.m.
Bill Riney faces 3 misdemeanor charges for one-man protest on county building
By Amalie Nash
An Ypsilanti Township man who climbed onto the Washtenaw County Administration Building in a one-man protest on Labor Day was criminally charged with three misdemeanors today.
Bill Riney was arraigned this morning on charges of attempted resisting and obstructing, punishable by up to one year in jail; trespassing, punishable by up to 30 days in jail; and disturbing the peace, punishable by up to 90 days in jail, Washtenaw County Chief Deputy Assistant Prosecutor Steve Hiller said.
Washtenaw County sheriff's officials said Riney climbed to the top of the Washtenaw County Administration Building and called police to say he was protesting there at about 5:30 p.m. Monday.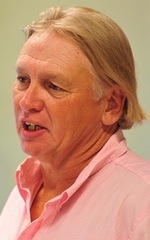 Riney - who brought a tent, sleeping bag, computer, water and other items onto the roof with him - was eventually convinced to come down at about 6:40 a.m. Tuesday.
He was arrested and complained of chest pain, so he was evaluated at a local hospital until he was turned over to the Washtenaw County Jail.
Riney stood mute on the charges, and a not-guilty plea was entered, Hiller said. His bond was set at 10 percent of $1,000.
Jail officials said he remained lodged there this afternoon and would be held until he was arraigned on a different charge Friday. Court records show that case as a "miscellaneous misdemeanor" ticket issued by a sheriff's deputy at the same time as an impeding traffic ticket in May. Details of that case weren't immediately available this afternoon.
During the protest, Riney told a Detroit TV station he was taking a stand to help the unemployed.
"I care and love other people. I want to help them find jobs. I want them to have a better life," he told WDIV.
Officers from the Sheriff's Department, Ann Arbor Police, Ann Arbor Fire Department, Huron Valley Ambulance, crisis negotiation team and SWAT responded to the scene.
Derrick Jackson, a spokesman for the Sheriff's Department, said the agencies are currently compiling a cost for the response to the incident. Any decision on whether Riney would be ordered to repay those costs would occur during the court process, Jackson said.
Riney is scheduled to return to court for a pretrial hearing on the charges Sept. 21. An attorney was being appointed to represent him, records show.
In the August primary, Riney was one of six candidates vying for the Democratic nomination to replace Alma Wheeler Smith in the state House of Representatives. He came in third with 13 percent of the vote.
Riney, known by many as the "The Free Hot Dog Man," has also staged at least two protests in trees in his yard during a dispute with a utility company over cutting those trees. The dispute was eventually settled.