Posted on
Thu, Feb 9, 2012 : 7:47 a.m.
Blast of winter cold and snow headed for Ann Arbor
By Cindy Heflin
Winter, the season that this year forgot, will make a brief appearance this weekend in the Ann Arbor area.
A little snow and a blast of bone-chilling cold will move in Friday. Cold temperatures will stick around for the weekend before moderating again next week.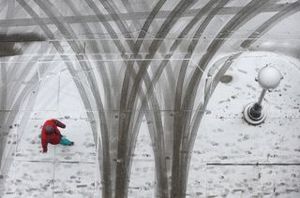 The winter blast comes on the heels of a report from the National Oceanic and Atmospheric Administration noting that January was the fourth warmest on record in the contiguous United States. In Ann Arbor, January was the 13th warmest on record.
Another sunny day is on tap for today with a high around 40. Winds gusting to 23 mph will likely temper our enjoyment of it though.
After an overnight low of about 25, the temperature will climb to about 37 Friday and snow will move in the afternoon, the National Weather Service says. The chance of snow is 80 percent, but less than an inch of accumulation is expected. Winds gusting to 24 mph will make it feel colder than it really is.
Serious cold moves in Friday night. The low will drop to about 11 degrees, and a north wind gusting to 28 mph will make it feel as cold as 3 below zero. There's also a 40 percent chance of snow showers.
Saturday, expect a partly sunny day with a high near 23. Winds will continue to blow, gusting up to 28 mph. The temperature will drop to around 16 Saturday night.
Sunday will bring mostly sunny skies with a high of 27. After a low of 18 overnight, temperatures will climb back into the low 30s Monday under mostly sunny skies. More snow showers are possible Monday night.
For updated forecasts and weather conditions any time check AnnArbor.com's weather page.