Posted on
Tue, Nov 15, 2011 : 5:52 a.m.
Michigan athletic director Dave Brandon: 'The cost to compete at the national level is high'
By Kellie Woodhouse
University of Michigan Athletic Director Dave Brandon Monday outlined something all college sports fans know but top college officials rarely say: "The cost to compete at the national level is high."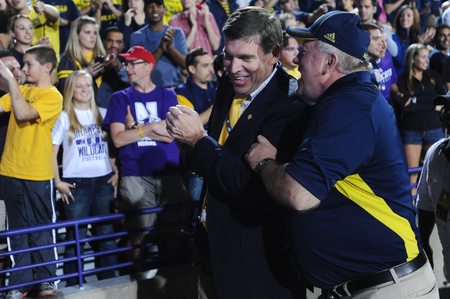 Melanie Maxwell I AnnArbor.com
Brandon made the remark during a talk he gave at the Stephen M. Ross School of Business on Monday night. The speech focused on sports and their effect on the economy.
Brandon is running the third largest athletic department in the nation: U-M's budget is $109.8 million.
In two years, the department's budget has grown by nearly 30 percent, from $84.6 million in 2010. 2011 was the first year in U-M history that athletic department spending topped $100 million.
Part of that expense is due to a targeted marketing campaign.
Brandon's talk comes in the midst of a 8-2 season for the Wolverines. It also prefaces the 2012 season, which U-M is opening against powerhouse University of Alabama at Cowboys Stadium in Dallas for a payment of $4.7 million.
Brandon told the crowd of more than 300 students that the athletic department —which employs 275 full time staff and hundreds of seasonal staff— derives two-thirds of its revenue from the football program.
Only three U-M sports —football, basketball and hockey— generate revenue. Hockey, however, generates minimal revenue, leaving football and basketball to support 26 other Wolverine sports teams.
"The men's hockey program is very marginally positive... at least it pays for itself and in a good year generates a few extra dollars," Brandon said.
"Football and men's basketball support virtually every college athletic program in the country."
At U-M, that includes' 29 teams travel, meal, equipment and facility costs. Scholarships are costly too. The department this year funneled $17 million to student athletes.
"We're chartering airplanes, we're flying to locations all over the country to get our student athletes in and competing," Brandon said.
Football, Brandon said, represents two-thirds of the athletic department's revenue, which he expects to be about $125 million this year.
Brandon said that football also accounts for a large part of fall revenue for Ann Arbor businesses. He said that a home football game at the Big House generates $15 million in business for area hotels, restaurants and merchants.
"If you think of Michigan athletics as an economic engine, it's pretty big, it's pretty widespread," he said. "This college football program that we offer has a huge impact on the economy of this state."
"You have no idea how many private jets land at Willow Run Airport (on game days)," he continued.
This season, attendance at football games topped record levels and all premium seating —including the 81 luxury boxes added after the Big House renovation— is sold out.
And with ticket prices increasing by 21 percent this season —student season tickets rose from $197 in 2010 to $240 but included an extra game— Brandon's department is enjoying a lucrative period.
In 2010, Michigan was one of only 22 NCAA FBS athletic departments to subsidize itself completely. The average FBS athletic department is in the red by $11.3 million, a gap that is usually covered by general fund dollars.
Brandon said the athletic department has about $200 million in debt, largely due to large renovations, such as the Crisler Arena and Big House upgrades.
"When we recruit student athletes at Michigan, they're very focused on the competitiveness of the facilities that we offer," he said. "We will continue to invest substantial millions of dollars.. to feed our athletic department and keep it successful."
With the university brand reliant on its sports program —and much of Ann Arbor's economic vitality too— Brandon says the athletic department and its athletes face a lot of pressure.
"The pressure to win is great because I am here to tell you people don't show up if their team is losing," Brandon said."If you're winning, you get put on the big stage (nationally)... if you win, donors donate more money —funny how that works."
Kellie Woodhouse covers higher education for AnnArbor.com. Reach her at kelliewoodhouse@annarbor.com or 734-623-4602 and follow her on twitter.