Posted on
Thu, Mar 25, 2010 : 6:10 a.m.
Bridgewater Township official turns to militia for help; watchdog groups question decision
By Lee Higgins
Lon Horwedel | AnnArbor.com
Bridgewater Township Supervisor Jolea Mull has twice sought help from militia members this year to search for missing township residents.
The move is drawing criticism from militia watchdog groups, who say Mull is legitimizing an extreme right-wing movement that has a history of being associated with criminal activity.
And the partnership comes as the militia movement is exploding across the country, driven by fears of economic collapse and the potential for a crackdown on gun rights under the Obama administration, watchdog groups say.
About 50 militia members from five units live in Washtenaw County, militia leaders say. They are survivalists, who favor larger local government and a smaller federal government. Members are fiercely protective of their free speech and gun rights.
When Mull learned from Washtenaw County sheriff's deputies that a township woman was missing Jan. 13, she contacted local militia leader Jimmy Schiel.
"She said, 'Hey, we need help to do a ground search for Anna-Maria Wheeker," Schiel recalls of their phone conversation that morning. "I said, 'So you want the militia?' And she said, 'Yes."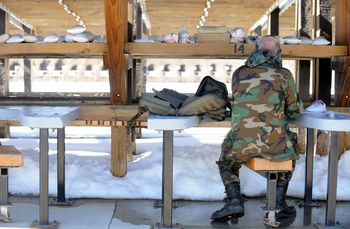 Angela Cesere | AnnArbor.com
Schiel, a member of the Washtenaw County-based Michigan Militia Corps Wolverines, 9th Division, 13th Brigade, started making phone calls. He quickly rounded up three members from his unit and three from the Lenawee County-based Hutaree, 8th Division, 20th Brigade.
They responded to the township hall with two search dogs, backpacks containing medical supplies and a non-militia volunteer on horseback. They met with deputies, firefighters and other volunteers before fanning out in the area to search for Wheeker.
Wheeker, a 45-year-old mother of four, was found dead on her roughly 20-acre property. She died of hypothermia, but the manner of death was not determined, the county medical examiner's office said. Wheeker had taken more anxiety medication than normal, officials said.
While the result was tragic, Schiel said, it was a significant event in his 15 years with the militia unit. "That was the very first time we were deployed in an official capacity," Schiel said.
Mull, who said she was pleased with the militia's response, contacted Schiel again Feb. 17 when deputies told her 56-year-old Robert Melvin Wise was missing.
Four members from Schiel's unit, one from Hutaree and a member from a Livingston County unit responded. They were given the task of driving around Jackson County to look for Wise on state hunting grounds.
Wise was found dead in the driver's seat of a car in Freedom Township. He died of carbon monoxide poisoning, and the manner of death was suicide, the county medical examiner's office said.
Mark Potok, director of the Intelligence Project at the Montgomery, Ala.-based Southern Poverty Law Center, which monitors extremist groups, questioned why an elected official would reach out to the militia.
The militia movement has been involved in an "enormous amount of criminal violence" and "huge number of domestic terror plots," Potok said.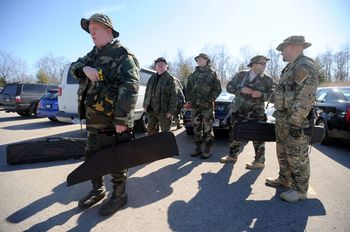 Angela Cesere | AnnArbor.com
"It certainly seems poorly advised to be kind, to ask people who believe in completely false conspiracy theories and see the government largely as an enemy to help in law enforcement matters," Potok said. "I don't see how that could work out well."
Mull, a Republican, turned to the militia because of their training in search and rescue techniques, familiarity with the local community and willingness to help, she said in a prepared statement. About 1,700 people live in Bridgewater Township in southwestern Washtenaw County.
"Unfortunately, in both cases, the searches ended tragically, but there's an old cliché that says, 'You are either part of the problem or part of the solution," she said. "It is clear to me from these experiences that our local militia is part of the solution."
"Based on what I have observed of our local militia's efforts, I highly recommend that other municipalities coordinate with and get to know their local militia members."
The sheriff's department was grateful for the help, said Derrick Jackson, the department's director of community engagement.
"The volunteers were helpful whether they were militia, whether they were residents of that community or friends of elected officials," Jackson said. "They did exactly what we asked of them."
A resurgence of the militia movement
An elected official seeking help from the militia is "extraordinarily rare," said Mark Pitcavage, director of investigative research for the Anti-Defamation League.
"Most people would stay away from these groups like the plague for very understandable reasons," he said.
Mull's decision to reach out to the militia comes as the militia movement is experiencing an "incredible resurgence" across the country, Pitcavage said. The movement gained steam after the government's siege of the Branch Davidian compound in Waco, Texas, in 1993 and later tapered off.
Key events involving
Michigan militia members

2005: Michigan militia member Norman David Somerville is sentenced to six years in federal prison for possessing and distributing 13 machine guns. Authorities claim Somerville planned to retaliate against Michigan State Police troopers for the death of Michigan militia member Scott Woodring.
2003: Michigan State Police Trooper Kevin M. Marshall is fatally shot during a standoff at the home of Michigan militia member Scott Woodring in Newaygo County. Police say Woodring killed Marshall. Woodring was located a week later and fatally shot by troopers after he pointed a gun at them.
2001: Michigan militia member Paul Darland is convicted of murder in the 1994 fatal shooting of William Gleason, a bodyguard for militia member Mark Koernke. Darland thought Gleason was spying on him, providing information to Koernke, authorities say.
2001: Michigan militia member Mark Koernke is sentenced to between three to seven years in prison for fleeing a police officer, assault with a dangerous weapon and resisting and obstructing an officer. He led police on a 40-mile chase after his car was seen near a bank robbery in progress in Dexter. Koernke was not involved in the robbery, but refused to stop, police said.
1999: North American Militia of Southwest Michigan member Bradford Metcalf is sentenced to 40 years in prison after being convicted of conspiring to blow up government buildings, threatening to kill federal officers and weapons violations.

Sources: The Associated Press, Anti-Defamation League, Southern Poverty Law Center, Detroit Free Press
But in the past 18 months, the number of militia groups has quadrupled to 200, Pitcavage said.
Like other organizations, militias have been using social networking sites such as YouTube, Facebook and Twitter to recruit members.
The central belief of the movement is that the rest of the world "has been taken over by an overarching, globalist, socialist, tyrannical, government conspiracy called the New World Order" and the U.S. government is participating in that conspiracy, he said.
Militia members fear FEMA may set up concentration camps to house government dissidents, the government may impose martial law and start door-to-door gun confiscation, Pitcavage said.
"They wanna change the world," Pitcavage said. "They are not satisfied with the status quo."
Among the most high-profile militia incidents in the state was the July 2003 fatal shooting of a Michigan State Police trooper by a militia member during a standoff in Newaygo County.
"Certainly, the militia movement has generated a number of violent or otherwise dangerous individuals," Pitcavage said.
Preparing for the worst
The Southeast Michigan Volunteer Militia, a group that covers Washtenaw and five other counties, didn't participate in the searches. However, they hold public meetings and training sessions that offer a glimpse inside the movement.
The group aims to protect against disasters, crime, foreign invasion, terrorism and tyranny, members say.
About 22 mostly middle-aged men met for one of their public meetings earlier this month at Mayberry's Family Restaurant, a diner in Farmington Hills. The group included a salesman, an IT specialist, a landscaping company owner, a firefighter and some unemployed people.
Members opened the meeting with the pledge of allegiance and a prayer.
Jeff Kindy, 42, an SMVM leader in Wayne County and U.S. Army veteran, told group members he should have contacted them when one of his children recently didn't return home from school and several hours elapsed. His child was later found safe.
"We're about taking care of each other, taking care of our neighbors," Kindy said. "Making sure everybody's safe and secure."
Members participate in monthly training including navigation, identifying wild edibles and combat first aid.
On a recent Saturday, a handful of SMVM members arrived at the Island Lake Shooting Range in Brighton, wearing camouflage, boots and unit patches.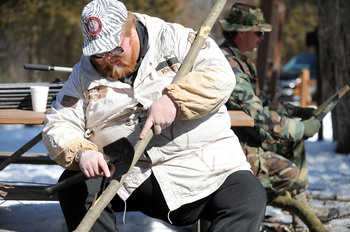 Angela Cesere | AnnArbor.com
Matt Savino, 34, a member of the Lenawee County Volunteer Militia, joined them. Savino, a U.S. Navy veteran, was firing an AK-74 at targets from 100 yards.
The militia, he said, is not "anti-government," but "pro-Constitutional government." He opposes the U.S. government detaining people without charging them.
"The militia is supposed to keep the government in check," he said. "The people are supposed to be above the government."
Savino owns more than a dozen guns, including two AK-47s - the standard weapon for his unit. If everyone has the same gun, it will help during combat in the rare event that Michigan is invaded by another country, he said.
"One of our guys goes down, we can grab his magazines and still use them."
The target practice at the range took place after about 22 militia members learned how to make a survival bow from a sapling at Island Lake Recreation Area. The bow can be used to hunt small game.
Bryan Ondercin, 32, another SMVM leader in Wayne County, participated in the training. He keeps three months worth of food at home, a gas mask, generator and other items. During the 2003 blackout, people were scrambling for food, but he wasn't, he said.
The fatal stabbing of his mother nine years ago contributed to his decision to join the militia. He found his mother's body in her Livonia home and said he was questioned by police for two days, making his life a "living hell." Police later moved on with their investigation.
"It was when I realized that no one can protect you but you," he said.
Militia members must remain vigilant of the government, Ondercin said.
"We have to do everything we can to stop them from even taking an inch because they will take a mile."
While the SMVM training is public, Hutaree, a Christian-oriented group, shies away from public attention.
Wendy Lineweaver, 43, of Manchester Township, a Hutaree member, participated in both searches in the township.
She joined the tightly-knit unit after meeting several members at a Ron Paul rally several years ago in Ann Arbor. Lineweaver opposes surveillance cameras on streets, the use of body scanners at airports and fears the government may microchip people.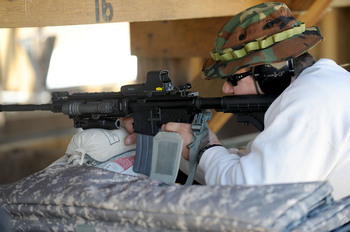 Angela Cesere | AnnArbor.com
"If you really want to try and install a police state in this society, you're going to hit a brick wall, meaning us," she said. "That's what we're preparing for."
Militia members are politically active, but have the same concerns as everyone else, said Rivka Pratt of Hamburg Township, who is Schiel's fiancée. The mother of two is a member of Schiel's unit.
"We all live normal lives," she said. "We all worry about paying the bills. How the kids are doing in school…You don't live your life worrying about the government."
Lee Miracle, head of the SMVM and a postal worker, hopes the volunteer work in Bridgewater Township fosters understanding of the militia.
"Maybe it's improved recognition that people realize we're not a bunch of lunatics," Miracle said. "We're not 100 percent gun-oriented. When someone's lost, you want to go help."
Contact with law enforcement
Michigan State Police don't monitor militia members, and no one at the agency is particularly knowledgeable about their activities, spokeswoman Melody Kindraka said.
FBI officials in Detroit declined to assess whether local militia groups pose a threat to public safety.
Pitcavage, the ADL investigator, who has trained 15,000 law enforcement officers in extremism and domestic terrorism issues, said he would be concerned about "any militia group."
"They're all extremist groups and any extremist group has the potential to go off the deep end," he said.
Mike Lackomar, 37, an SMVM spokesman, said federal, state and local law enforcement officials periodically contact unit members.
For instance, he said, the day before the 2008 presidential election, five unit members who were planning a meeting were contacted by law enforcement. Lackomar said a federal law enforcement agent asked him whether he heard of anything going on, but he said he hadn't.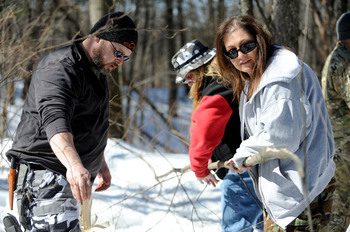 Angela Cesere | AnnArbor.com
At times, Lackomar said, people drawn to the movement become frustrated it's not "doing enough to bring down the New World Order."
Certain groups, he said, are "gearing up or seemingly gearing up for a standoff with the government."
"There have been a couple of occasions where law enforcement have asked us about individuals they are concerned about," he said. "If this person was a danger, we would have to pass that along. The worst thing that could ever happen is Americans firing on Americans and nobody wants that."
Amy Cooter, a doctoral candidate in sociology at University of Michigan, has been studying the militia movement for two years and has interviewed a representative of every unit she can identify in the state.
Michigan militia members are still struggling to distance themselves from the legacy of Oklahoma City bomber Timothy McVeigh, who the media falsely reported was one of their members, she said. He attended one militia meeting in Michigan, members said.
Most militia members have achieved some level of college education, feel a strong need to be politically involved and simply want to be prepared in the event of a disaster, Cooter said.
"Most militias see their role as helping law enforcement and helping their communities when they need it."
Lee Higgins is a reporter for AnnArbor.com. He can be reached by phone at (734) 623-2527 and email at leehiggins@annarbor.com.