Posted on
Sat, Mar 24, 2012 : 5:58 a.m.
Ann Arbor teachers union election turnover: Linda Carter resumes presidency
By Danielle Arndt
It's out with the new and in with the old for the Ann Arbor Educators Association.
First-term AAEA President Brit Satchwell lost the teachers union election last week to Vice President Linda Carter, who formerly was president.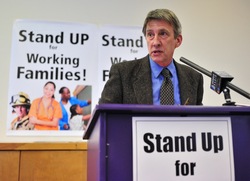 Satchwell ran three years ago
on the premise of new ideas
. He said Carter and Allan Loeb, who Satchwell defeated in 2009, had flip-flopped back and forth between the president and vice president positions for 18 years.
Overall, Satchwell is pleased with the advancements he made while at the helm of the 1,200-member union. In 2009, he said, "The old image of a teachers' union being entrenched against change, needs to change."
In accordance with his motto, Satchwell drew the union out of the trenches, brought more media attention to union happenings and spurred members to get involved in the greater Ann Arbor community, he said.
He and other AAEA members helped boost the Washtenaw Community Action Team off the ground.
"I am very proud of the professional, working relationships … I feel I was able to forge between the administration and the union, between parent groups and the union and between other organizations in the community and the union," Satchwell said.
He said everyone is 80-percent aligned with everyone else and as humans, we need to make more of an effort to find common ground with one another.
Other successful efforts were bringing the AAEA into the 21st century and social-media age with the creation of a union website, Twitter account and Facebook page, Satchwell said.
Additionally, he is proud of the increased level of interest union members showed in the recent round of elections. The new vice president, Fred Klein, a Haisley Elementary teacher, has not held a position before.
"We had more candidates for executive officers … than I think we've ever had," he said. "I think that's a sign of a healthy, resurgent union stepping out of its usual role."
There are other initiatives Satchwell was heavily involved in that he hopes Carter and the new leadership will carry forth. Carter was not available for comment Friday.
"They are like my children and I am going to work very hard to ensure those children get adopted," he said.
Among those initiatives, Satchwell said, are changing the teacher evaluation model and shopping the market for competitive insurance rates to save AAPS money without cutting insurance or benefits for staff.
Satchwell acknowledged he'll likely be remembered for his "snappy one-liners," but also believes members saw the "deeper conversations" he hoped to stir.
Carter will resume the AAEA presidency prior to the 2012-13 school year, while Satchwell will return to the classroom. He formerly taught at Forsythe Middle School. He said working with kids again is the silver lining in all of this.
A self-declared "political animal," Satchwell said he will continue fighting for "progressive issues and civil society."
"Just not as union president."
Staff reporter Danielle Arndt covers K-12 education for AnnArbor.com. Follow her on Twitter @DanielleArndt or email her at daniellearndt@annarbor.com.