Posted on
Thu, Mar 29, 2012 : 8:32 a.m.
'Bully' crusader Katy Butler tells her story
By Cindy Heflin
Katy Butler, the Ann Arbor teen who crusaded to lower the rating on the documentary "Bully" from R to PG-13, tells her story in "The Daily Beast."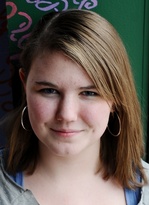 Butler talks about her best friend's betrayal after, at age 12, Butler told her she was a lesbian. Butler says she was almost universally shunned and harassed after her friend told "the whole school."
An online petition drive Butler started drew more than a half-million signatures.
Butler appeared on Ellen DeGeneres' show and won support for her effort from Meryl Streep and Johnny Depp.
After Butler's crusade, the Weintstein Co., which produced the movie, said it will release the movie with no rating at all.