Posted on
Tue, Mar 13, 2012 : 2:59 p.m.
Ann Arbor 5th-graders find black doll in tree with chain around neck
By Danielle Arndt
Note: This story has been updated to include reactions from parents at Burns Park.
A black doll with a chain around its neck was discovered hanging from a tree on Ann Arbor Public Schools property Tuesday, according to an email from the elementary school's principal.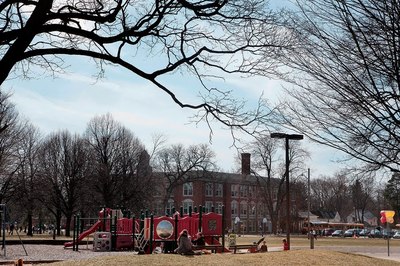 Chris Asadian I AnnArbor.com
A group of six to seven fifth-grade girls at
Burns Park Elementary
found the doll while outside on recess.
District Spokeswoman Liz Margolis said the doll was stuck in between two high limbs in a tree on the east side of the school's property. She said the position of the doll did not resemble a hanging.
A few of the girls that discovered the doll were black, Margolis said. According to 2010 ethnicity data from the district's website, fewer than 8 percent of the Burns Park student population is African American. The majority, more than 70 percent, of Burns Park students are white.
Margolis reported Principal Virginia Bell said the pupils handled the incident very maturely and no one was visibly distraught.
Bell said through Margolis that there wasn't any over-arching issue that arose from the discovery.
"It wasn't a huge topic of conversation," Margolis said. "The students were just aware that it was not something that should have been up there and told someone."
Margolis said Bell was able to remove the doll from the tree.
Burns Park parents who spoke to AnnArbor.com while picking up their students from school Tuesday were universally surprised by the incident.
Matt Thompson, the father of a fifth-grade pupil and another child who previously attended Burns Park, said it was surprising the incident would occur at a school that he sees as very accepting.
"Anybody hanging an effigy like that, it's very disturbing," he said.
"It's very terrible that someone would do such a thing," he added.
Thompson said school employees care very much about the children and the school's community. He's always been happy with the environment at Burns Park.
The accepting nature of the Burns Park community was echoed by other parents as well.
Ann Arbor native Paul Domanski, who has a 6-year-old at the school and plans to enroll another child, said the city is one of the most tolerant places he has ever lived, leaving him stunned to hear about the hanging doll.
"Having grown up in Ann Arbor and then living in other cities, Ann Arbor, despite the perception that Ann Arbor is as bad as other places, is much better than other places (in regards to tolerance)," he said. "And that's why I'm a little dumbfounded about it."
One parent, who asked not to be named, called the incident shocking — especially coming on the heels of a meeting with Bell earlier Tuesday that centered on how the various communities at the school are getting the resources they need.
She said the primary question that needs to be answered about the incident is whether the hanging doll was in any way related to the school or an unfortunate coincidence.
Heather Robinson, the mother of a fourth grader at Burns Park, said she was pleased with the school's reaction.
"The school handled it really well," she said. "It sounds like they were there right away to take care of it. Unfortunately, being close to the park, these things happen."
The east side of the elementary's property abuts Burns Park, Margolis said. She added there is no fence separating the playground area from the public area.
She said custodians will walk around the building and check the property this afternoon and in the morning to ensure there are no other concerning items on the grounds.
Thompson said the hanging doll recalled a dark part of American history that is best left in the past.
"It always saddens me to hear about people doing things like this," he said. "I don't know what their goal is but I think that, if they think they're making a statement, they're really reminding everybody about the ugliness that lives in our souls."
The following is the email Bell sent to parents:
Dear Parents and Guardians: Today while many of our 4th and 5th graders were outside for recess, a group of 5th-grade students discovered something disturbing in a tree limb on school property. They immediately alerted me and showed me a black toy baby doll in an upper tree limb with a chain wrapped around its neck. The doll was quite high in the tree but it was a disturbing sight to see. The doll was immediately removed from the tree. There were no younger students on the playground and no other students have reported that they saw this as well.

All Burns Park teachers have been informed of this situation as well as our Ann Arbor Police liaison officer. We are addressing several of the students who witnessed this incident individually as well as contacting their families. We will also have one of our school psychologists at Burns Park tomorrow for any student who would like additional support or a professional to talk with about this incident.

I know as a community we have absolutely no tolerance for this type of ugly display. It disturbs me that any child had to witness this. I feel confident that no Burns Park student is involved, but rather it is a result of our location so close to a public park. Both school staff and the police will be monitoring the property very closely over the next few weeks.

If you have any concerns regarding your student or questions for me please contact the office.

Sincerely,

Virginia Bell Principal
Kyle Feldscher, cops and courts reporter for AnnArbor.com, contributed to this story.
Staff reporter Danielle Arndt covers K-12 education for AnnArbor.com. Follow her on Twitter @DanielleArndt or email her at daniellearndt@annarbor.com.