Posted on
Tue, Apr 12, 2011 : 5:54 a.m.
Discovery Channel's 'Cafe Racer' show filming episode at Depot Town vintage motorcycle shop
By Tom Perkins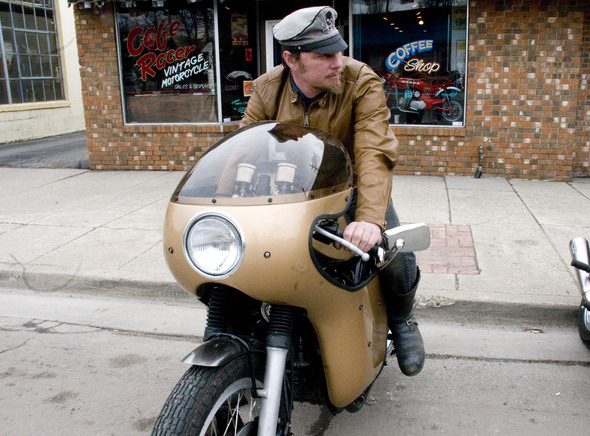 Tom Perkins | For AnnArbor.com
On Monday afternoon, Marcel Nistor explained the highlights of the motorcycle he modified and had parked outside Cafe Racer in Ypsilanti.
What had once been a standard issue "cruising bike" was now something far more special, thanks to his modifications.
"It's much more sexy," one of Nistor's friends said with a laugh.
"It definitely won't get lost in a parking lot," Nistor joked.
It's the sixth motorcycle Nistor modified since starting his company, Motonisto. Two of his earlier projects caught the attention of the Discovery Channel's "Cafe Racer" television show's creator.
Because of Nistor's bikes, the creator sent a television scout to Cafe Racer, a motorcycle shop and small coffee bar in Ypsilanti's Depot Town where Nistor is also a mechanic, to determine if the location would work for filming an episode.
On Saturday, crews arrived to start shooting a segment that tentatively will air in November.
The show offers a format not unlike other shows where a motorcycle or a car is taken into a shop and transformed into a new and custom version.
"Cafe racer" is a term used to describe a style of vintage British or Japanese bike from the 1950s to the 1970s, explained Mark Pipes, who volunteers at the Cafe Racer shop. They were "the European version of our choppers," meaning they were stripped down and modified to increase performance, he said.
The cafe racer term originally described British and European bikers who would strip and modify their bikes and race them between cafes during the baby boomer generation's youth. While the culture has never really died in Europe, it's one that's catching on and slowly growing here, Pipes said.
But, unlike their American relatives, Pipes said, cafe racers were used on European roads that demanded the bikes be far lighter and more nimble to navigate through tighter spaces and more turns. Unlike the American West, where the chopper was born, Pipes said, the roads were not long and straight.
Nistor and Pipes said the Cafe Racer shop serves as a focal point for the cafe racer culture in the area. Nistor is an employee there, and it is owned by Leah Halbert and John Craddock. But many, like Pipes, volunteer and come by just to hang out.
Each Tuesday, Cafe Racer hosts a vintage bike night similar to that established for classic cars in Depot Town. The shop has also hosted "Ton Up" bike shows in Riverside Park the last two summers and is planning more, bigger fests.
Those involved with the shop also collaborate with artists whose crafts are related to the cafe racers', such as metal workers from Detroit's Speedcult.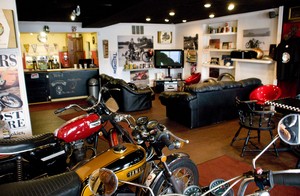 Tom Perkins | For AnnArbor.com
Speedcult is producing some of its metalwork for the episode. "Cafe Racer" TV scouts came to check out the Cafe Racer shop on a Tuesday night to find the network of artists involved with the scene all there. That, Pipes said, was one of the selling points.
"There were a lot of bikes, and this kind of tends to be the physical place where everyone in the culture goes. I think he liked everyone working together, and Marcel is central to that," he said.
The shop has also benefited from its Depot Town location, Pipes said.
"It fit right into the culture here," he said.
Cafe racer bikes' modifications typically make them slightly faster and turn them into a one-of-a-kind machine. The frame on Nistor's bike sitting in front of Cafe Racer on Monday, he said, was much more aerodynamic and lighter than when it started out as a normal 1980 Yamaha XS 650. He shaved 30 pounds from it by fitting a new gas tank, mounts, brackets, race fairing and other adjustments.
The crew and cast from the "Cafe Racer" television show are fixing up a local bike, though more details haven't been disclosed and the public isn't allowed to see it until Tuesday night.
The bike's unveiling will take place place at 8 p.m. Tuesday at the Ypsilanti shop, but festivities get started around 7 p.m. Check Caferacerypsi.com for more information.
Tom Perkins is a freelance reporter for AnnArbor.com. Reach the news desk at news@annarbor.com or 734-623-2530.