Posted on
Sun, Aug 21, 2011 : 10:16 a.m.
Cancer survivor Diana Dyer turned her illness into an advocacy for healthy food, organic gardening
By Kyle Poplin
Admit it, you've dreamed about quitting your job and pursuing your real passion in life, haven't you? Well, Diana Dyer actually did it.
Of course, Diana's not like the rest of us. As a three-time cancer survivor, she long ago learned to look fear in the eye without blinking. What's so tough about a midlife career change?
She had neuroblastoma as a child. It was so advanced the doctors gave up hope. They weren't even going to treat her but her parents insisted. Then she had breast cancer at age 34, when her two boys were still young, and again at age 45. Now 61, she says matter-of-factly, "I've had a long history of resilience."
Instead of anger, her illnesses left her motivated. She's convinced her diet helped her survive, so she wakes up every day intent on spreading the word about healthy eating. Then she gets out in the field and grows food to make it possible.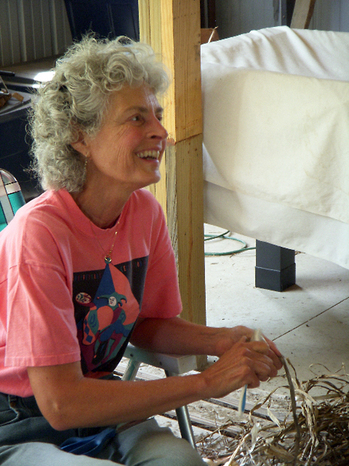 Kyle Poplin photo | For AnnArbor.com
Diana, who grew up in Toledo, is married to Dick, who's the true farmer in the relationship. In fact, on their first date as undergraduate students, they weeded his garden. Diana says they were close to dropping out of grad school to become farmers in the mid-'70s, but "we needed, as a family, continuous high-level healthcare."
It frustrates her to this day that so many young people can't farm, or otherwise pursue their entrepreneurial passion, because they need the healthcare benefits that come with a corporate job.
So Dick became a research scientist in drug development and Diana a registered dietitian, and they set about raising their family. Diana ended up working in the medical ICU unit at St. Joe's in Ann Arbor, a job she loved.
But after her second cancer, she felt a call to be involved in the world of cancer "survivorship," helping others pick up their lives after their diagnosis and spreading the word about "using nutrition as one strategy for reducing risks of recurrence."
The Detroit Free Press did an article on Diana's thoughts on diet and cancer in 1997, the Associated Press picked up the article, and she eventually heard from 1,500 people who all told her basically the same thing: "We aren't getting this information from our cancer centers and we're angry about it."
She quit her job at St. Joe's and opened a private practice as a registered dietitian focused on cancer survivors. After three years, she decided she could better lead the fight on a national level, so she self-published a book, "A Dietitian's Cancer Story," in 1997 and launched a speaking career. For 10 years, she traveled all over the U.S. and Canada.
The book has been reprinted 13 times and there are about 100,000 copies in circulation. Since 1999, she's donated its proceeds to the American Institute for Cancer Research. In 2000 she set up an endowment at AICR to help fund cancer-related research projects focused on nutritional strategies in increasing the odds for long-term survival after a cancer diagnosis.
Tired of traveling, Diana decided to bring her fight back to the local level and "pure prevention." In short, the Dyers wanted to live their dream and become farmers. Her highest aspiration? "Feed our community healthy food. I really believe organic farmers are our community's true front-line healthcare providers."
She and Dick looked at several local properties in their search for the perfect place to start farming, but found themselves rejecting all of them. When they sat down to discuss why they were having trouble making a decision, they concluded that fear was the key factor. There was her cancer history to consider, the depressed housing market, the bad economy.
"We had allowed fear to take over," Diana says. "Once we put a face on that, it evaporated. Cancer might kill my body. But if I was letting fear that cancer might kill me in the future rule my life today -- ruin my life today -- essentially I was giving cancer the opportunity to kill me twice."
Soon thereafter, two years ago, they found the perfect 15-acre tract out by Dixboro. This year they harvested their second organic garlic crop, including 42 varieties.
They sell at three local farmers' markets (Tuesday in downtown Ypsilanti, Wednesday afternoon/evening at Kerrytown in Ann Arbor and Thursday afternoons at Ann Arbor's Westside Market at Zingerman's Roadhouse).
They also sell to local chefs, but have no plans to go global. Ever.
It's all about local. "Healthy soil leads to healthy food; nourishing healthy people leads to healthy communities," Diana says.
As she cleans her garlic, preparing for an upcoming farmers' market and chatting about "the gold standard" of organic, local food, Diana says, "I have never been happier," and you know she's telling the truth. It's enough to make you want to quit your job and live the dream.
Read Diana Dyer's blogs www.dianadyer.com, www.365DaysofKale.com and www.cancervictorygardens.com.
Kyle Poplin is publisher of The Ann magazine, which is inserted monthly in various print editions of AnnArbor.com. The next issue is Aug. 28. He's also searching, through this column, for the most interesting person in Ann Arbor. Email suggestions to theannmag@gmail.com.