Posted on
Tue, Sep 4, 2012 : 5:50 p.m.
Candidates eyeing state House seats debate education funding on back-to-school day
By Ryan J. Stanton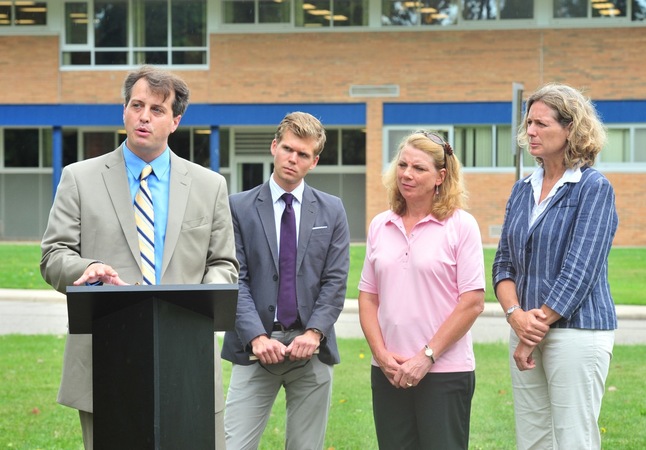 Ryan J. Stanton | AnnArbor.com
Candidates looking to represent Washtenaw County in the Michigan House for the next two years used the first day back to school on Tuesday to frame a debate around education funding.
During a news conference outside Beach Middle School in Chelsea, Saline Mayor Gretchen Driskell, a Democrat running for the 52nd District seat held by Rep. Mark Ouimet, said the ability of schools to offer a quality education has been under attack with cuts from the state.
"The Saline schools actually took a $1.5 million cut in 2011 when the Republicans cut over $1 billion from education and K-12 funding," she said. "Here in Chelsea, they had over a $600,000 cut."
Driskell said that affects the ability to have quality teachers, a quality classroom environment and an excellent and diverse curriculum.
Ryan J. Stanton | AnnArbor.com
She was joined by 53rd District state Rep.
Jeff Irwin
, D-Ann Arbor;
Adam Zemke
, an Ann Arbor Democrat running in the 55th District; and
Sandy Inman
, a retired Chelsea school teacher.
Together, they called on the state Legislature to restore full funding to Michigan schools. They said the most recently passed budget, which did restore some funding, didn't go far enough, and they argued the cuts were driven by the need to make up for a $1.8 billion tax cut for businesses.
Ouimet, R-Scio Township, maintains the budget choices the Republicans have made in the last year and a half are positioning the state for more job growth.
"We were left with a $1.5 billion deficit from Granholm and all departments were cut," he said of the position the Legislature was in last year when it cut funding for education. "You always want to do more with public education, but we had an obligation to actually balance the budget."
Ari Adler, press secretary for Republican House Speaker Jase Bolger, echoed Ouimet and said the Democrats are distorting the Legislature's record on education funding.
"We went through a period last year where we had to adjust all of the state budgets down in order to get spending under control," he said. "When we made those reductions, education was kept as a priority and received the smallest reduction — about a 1.5 percent reduction — and we have now increased funding to K-12 and higher ed this year to restore most of that."
Adler said there was a base $300 per pupil cut in school funding last year on top of a loss of $170 per pupil in federal stimulus money that went away.
Through new incentives offered for following best practices and the state helping schools address retirement costs, he said, it turned out to be a $100 per pupil cut in the end.
"If the Democrats want to talk about an additional $170 cut per pupil and blame President Obama, they can do that, but let's talk fact and not rhetoric," he said.
Irwin accused Republicans of running from their record, which includes a 15 percent cut to public universities last year, and said they're trying to cloud the issue now.
"They restored about $100 of the $470; that's the way I look at it," he said. "And that $100 only goes to districts that qualify for their funding rubric they've created. If they hadn't raided the school aid fund, there would be an additional $700 to $900 per pupil."
Adler and Ouimet noted Gov. Rick Snyder signed legislation on Tuesday reforming the Michigan Public School Employees Retirement System, addressing retirement cost burdens facing schools. The reforms are expected to shrink long-term unfunded liabilities by more than $15 billion.
Ouimet called the reforms ground breaking and said the new law directs more funding to public school classrooms by eliminating billions of dollars in employee retirement liabilities.
"Schools across Washtenaw County and the state of Michigan are breathing a sigh of relief, knowing that millions of additional dollars will be available to improve education," he said.
The rate that schools pay in employee retirement costs has doubled since 2002 and was slated to grow to 35 percent of payroll costs by 2016 had no action been taken.
The new law makes several changes, including increasing employee contributions and pre-funding retiree health care, which means the state is setting aside money to meet future debt.
Ouimet cited a nonpartisan House Fiscal Agency analysis that showed the two-year estimated savings for Ann Arbor schools is $12,449,200, while Chelsea schools will save $1,600,501, Dexter schools will save $2,288,428, Manchester schools will save $669,925, Saline schools will save $3,517,351 and Whitmore Lake schools will save $709,772.
"This is tangible savings that will help improve education and provide a better future for local students," he said.
The three Democrats who gathered in Chelsea on Tuesday didn't mention those numbers, but they did cite figures showing that the Ann Arbor School District lost nearly $4 million and the Chelsea School District lost $630,000 with funding cuts in the 2011-12 school year.
Inman, a retired Chelsea High School teacher who taught for 35 years, said she's noticed a negative impact on classrooms.
"The effects include fewer teachers that can be hired," she said. "And then when fewer teachers are hired, of course that means bigger class sizes. And bigger class sizes mean you don't have the time to spend with the individuals that you need to give the students the best quality education."
As a science teacher, Inman said, she especially saw an impact on lab classes, some of which now have more than 28 students in them.
"And not only can you not get to each student as much as you'd like, but in addition to that you really have to consider safety," she said. "And you have to think: Can I even do this lab activity now?"
Irwin said education is a top priority in Washtenaw County and voters should make sure they have a state representative who shares their priorities.
"Unfortunately that same ethic, that same priority for education, is not in place in Lansing," he said. "A budget is a reflection of your values — it's a reflection of your priorities."
While Driskell tries to unseat Ouimet in the Nov. 6 election, Irwin is defending his seat against long-shot Republican challenger John Spisak, while Zemke takes on Republican Owen Diaz for a chance to fill the seat being vacated by state Rep. Rick Olson, R-York Township.
Ryan J. Stanton covers government and politics for AnnArbor.com. Reach him at ryanstanton@annarbor.com or 734-623-2529. You also can follow him on Twitter or subscribe to AnnArbor.com's email newsletters.