Posted on
Fri, Oct 12, 2012 : 12:45 p.m.
Candidates for 55th District seat in Michigan House want to boost economy
By Amy Biolchini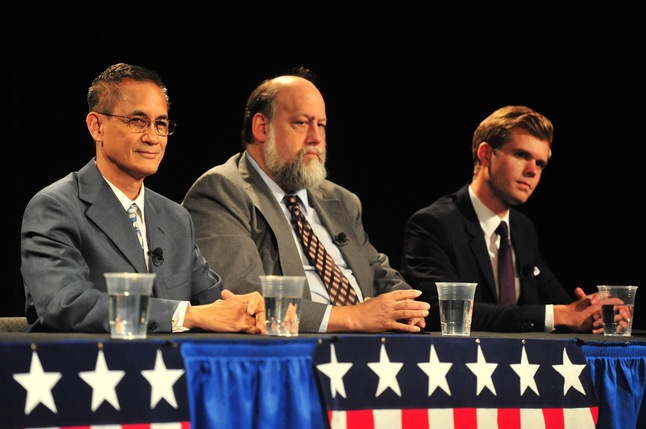 Ryan J. Stanton | AnnArbor.com
Though three different party affiliations divide the candidates for the
55th District
seat in the
Michigan House of Representatives
, all have expressed a desire to keep college graduates in the state and to work to improve Michigan's economy.
No incumbent is running in the 55th District because current Rep. Rick Olson, R-York Township, announced this summer that he will not seek re-election. Redistricting in 2011 caused the district to gain more Democratic territory.
York, Augusta, Pittsfield and Ann Arbor townships, as well as portions of Ann Arbor and Milan make up the 55th District. Democratic candidate Adam Zemke won his primary election with 61 percent of the vote, defeating Democratic challenger Andrea Brown-Harrison.
Thursday night, Zemke sat alongside fellow candidates Owen Diaz, a Republican from Milan, and David McMahon, a Green Party candidate from Augusta Township, at an election forum hosted by the League of Women Voters of the Ann Arbor Area. The discussion was broadcast live from the CTN Studios in Ann Arbor.
Zemke , 29, an engineer for an auto supplier, has undergraduate and graduate degrees in mechanical engineering from Michigan State University. He's picked up a number of endorsements along his campaign thus far.
The former two-term mayor of Milan, Diaz, 66, is a financial consultant by trade. He immigrated to the U.S. from the Philippines in 1972 and has been living in Washtenaw County since 1974.
McMahon, 54, works in the environmental health and safety industry and holds an elected position as a school board trustee for Lincoln Consolidated Schools.
McMahon pitched himself as a candidate who understands what many voters have gone through in the past four years, as he himself lost a home to foreclosure and watched friends struggle in tough economic times.
Although McMahon said he and Zemke agree on many issues, he said a big difference between them is the amount of party muscle behind Zemke.
"Between the two of us, I'm not on steroids," McMahon said.
True to his previous campaign statements, Zemke said his platform is to attract and retain young professional talent in Michigan to bolster the economy - as well as to restore funding for K-12 schools and to promote urban revitalization, urban connectivity and more affordable higher education.
Focusing Thursday on a plan he developed to bring businesses to Michigan, Diaz did not elaborate on the details of how he would make that happen. Instead, he instructed voters to visit his website, which describes an incentives program that offers a corporate income tax credit.
The conversation among candidates was heavily focused on education Thursday night.
"I was an orphan and I was a self-supported student," Diaz said. "I believe education is the one that brings opportunity to people."
McMahon agreed on the importance of a strong education system to help 55th District residents pull out of the economic slump.
"As an active school board member, I see every day what Lansing has to offer and what needs to change," McMahon said.
Zemke said if elected, he would work across the aisle to develop solid goals for education funding and transportation, while McMahon called for the end of partisanship in the Michigan legislature. Diaz said he was only running as a Republican because of his strong religious beliefs.
"I do not believe in abortion, and I believe marriage is one man, one woman, so I lean more towards Republican," Diaz said. "The loyalty to my party ends where my loyalty to the people begins."
On the issue of House-introduced bill 5711 that would limit a woman's access to abortion and some measures of birth control, Zemke said the state shouldn't be taking a stance on that issue.
"This is a medical issue between a woman and her doctor," Zemke said.
McMahon agreed, calling it a classic "red herring" bill offered to divide the legislature.
Diaz said the state does not need to intervene in such matters. "I do not support abortion, but I leave it to the person and her doctor to decide. I would not support funding -- it's like saying it's ok," Diaz said. "But I will work to make sure adoption is easier."
When it comes to redistricting, Zemke said he supports non-partisan redistricting, while McMahon pushed the Green Party value of socioeconomic redistricting. Diaz admitted he didn't know much about the process, but said he would be fair.
The three candidates had distinctly different views on Secretary of State Ruth Johnson's attempt to create tighter voter restrictions at the polls.
Johnson had told election officials to include a citizenship question on ballot applications for the August primary -- though several county clerks, including Washtenaw County -- chose to ignore the order. Since then, a federal judge has ruled against Johnson's instructions.
"I would like to see more accessibility for voters," Zemke said. "I want to see more people participating in the electoral process."
Diaz affirmed his support of the right to vote, but said he thinks it's important to ensure that voters are who they say they are.
"I would like to make sure they are legitimate citizens, to make sure the ballot is not tainted with illegal voters," Diaz said.
McMahon said the current voter registration laws are adequate and the check on the registration system currently exists at the local level, as identification is required to register to vote.
"To say otherwise is to literally police the polls and drive minorities out," he said.
Amy Biolchini covers Washtenaw County, health and environmental issues for AnnArbor.com. Reach her at (734) 623-2552, amybiolchini@annarbor.com or on Twitter.