Posted on
Tue, May 31, 2011 : 6:09 p.m.
Carp left dying in Ypsilanti's Riverside Park after Huron River flooding recedes
By Tom Perkins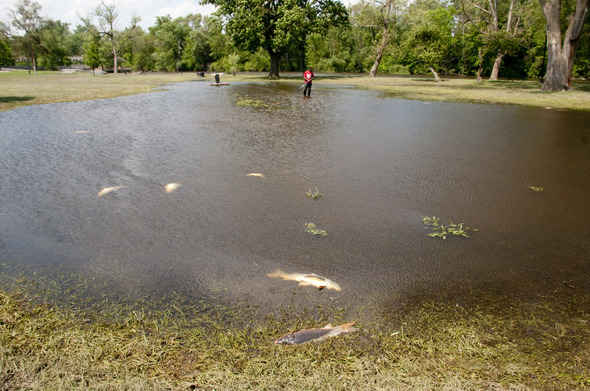 Tom Perkins | For AnnArbor.com
Last week's flooding created plenty of temporary fishing holes in Washtenaw County, but some receding waters are leaving dead and dying fish.
Lakaris Williams was one of several people spotted Tuesday in Ypsilanti's Riverside Park collecting what remained of live carp in two lagoons left by the recent flooding.
Only 35 dead fish remained in one lagoon, while a larger lagoon to the south still had some live fish to offer.
"I'm not messing around with nothing but the live ones," Williams said as he took his net and bucket with an approximately 15-pound carp in it over to the larger lagoon.
Williams said city employees were in the park earlier Tuesday and told him to take all the fish he could out of the lagoon because they would die as the water heated up and evaporated.
He'd caught seven fish Monday, one Tuesday and planned to give them to his family to freeze or cook.
City of Ypsilanti officials didn't return calls for comment about the dead fish, but Huron River Watershed Council ecologist Paul Steen said dead fish littering riverbanks are common after heavy rains.
He explained carp like to feed in the shallow areas on riverbanks during floods and described them as "vacuum cleaners" that will suck up worms, terrestrial bugs or anything else they can find. The fish then filter what they like from the meal and spit the rest out.
"They're in the habitat they love when they get the chance to do this, but it is sad to see them die off," Steen said.
Carp are edible, Steen said, though many people in North America won't eat them. He said carp are popular in many Asian cultures.
Also on Tuesday, some people swam and splashed in the larger Riverside Park lagoon, which Steen cautioned against. He said to avoid contact with the water 48 hours after a flood because pollution runs off the ground, and oil and various chemicals not visible to humans collect in the lagoons.