Posted on
Fri, Jul 26, 2013 : 5:59 a.m.
Challengers raise big money in Ann Arbor City Council primary races
By Ryan J. Stanton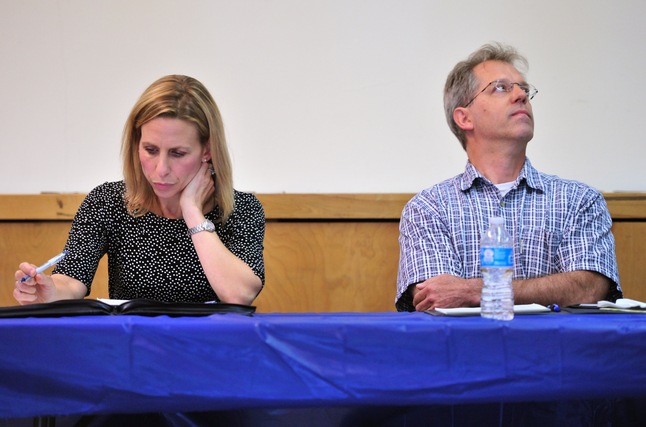 Ryan J. Stanton | AnnArbor.com
Two challengers hoping to oust two incumbent
Ann Arbor City Council
members on Aug. 6 have raised large sums of money for their campaigns this year.
New finance reports show Julie Grand has raised more than $11,600 in her bid to oust Stephen Kunselman from his 3rd Ward seat.
Grand took in $10,825 in cash contributions plus another $826 worth of in-kind donations. She spent nearly $6,700 for the period from April 29 through July 21 and had $4,131 cash on hand.
Kunselman raised $5,855 in cash contributions plus $160 worth of in-kind donations this cycle. He spent $2,526, leaving him with $3,454 cash on hand.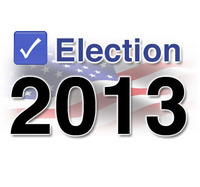 Meanwhile,
Jack Eaton
has raised more than $9,200 in his bid to oust
Marcia Higgins
from her
4th Ward seat.
Eaton took in $7,959 in cash contributions plus another $1,263 worth of in-kind donations.
His report shows $2,445 worth of itemized expenses, $1,788 in debt owed and $5,508 cash on hand.
Higgins filed a report showing she raised $4,592 in cash contributions and spent $2,751. Counting previous money raised, she had $2,623 cash on hand.
The county clerk's office sent Eaton a notice on Thursday saying his campaign finance statement had six different errors or omissions.
That included two anonymous contributions totaling $25. The clerk's office informed Eaton that anonymous contributions are prohibited and the money must be donated to a charity.
Eaton also failed to report the occupation, employer name and business address of Kathy Griswold, who donated more than $100 to his campaign.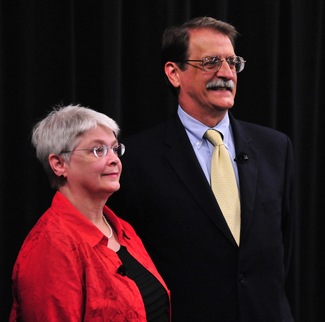 Ryan J. Stanton | AnnArbor.com
Eaton also was cited for accepting $508.61 in cash and in-kind contributions from Council Member
Mike Anglin
, D-5th Ward, when $500 is the maximum allowed.
Other contributors to Eaton's campaign include Council Members Jane Lumm and Sumi Kailasapathy; local hotelier and real estate developer Dennis Dahlmann; and Irv Mermelstein, an attorney who is at odds with the city on flooding issues and the city's footing drain disconnection program.
Eaton also received contributions from David Cahill, who is the husband of City Council Member Sabra Briere; and Vivienne Armentrout, a former county commissioner who has run for City Council in the 5th Ward; as well as Alan Goldsmith, a frequent critic of city hall and the mayor.
Grand received contributions from Leah Gunn, who was chairwoman of the Downtown Development Authority until recently; and John Splitt, another DDA board member. She also received donations from Higgins and Margie Teall, who represent the 4th Ward on the City Council.
She also received money from local developer Ed Shaffran of Ann Arbor-based Shaffran Companies and Jeff Hauptman, president of The Oxford Companies.
Higgins received contributions from some of the same people who gave to Grand's campaign, including Gunn, Hauptman and Teall.
She also received donations from Mayor John Hieftje; DDA board members Roger Hewitt and Joan Lowenstein; Pizza House owners Dennis Tice and Matthew Tice; and Ray Detter, who is chairman of the Downtown Area Citizens Advisory Council.
Kunselman received donations from many people who donated to other campaigns, including Anglin, Dahlmann, Detter, Goldsmith, Armentrout, Griswold, Eaton and Lumm.
Kunselman also received a letter from the county clerk's office on Friday saying it appears he made an error by accepting a $100 contribution from Anglin's campaign committee.
"Candidate committee to candidate committee contributions are prohibited except for the purchase of a fundraiser ticket not to exceed $100 from the candidate committee in a calendar year," the clerk's office stated, noting no indication is made if the contribution was for a fundraiser ticket.
Ryan J. Stanton covers government and politics for AnnArbor.com. Reach him at ryanstanton@annarbor.com or 734-623-2529. You also can follow him on Twitter or subscribe to AnnArbor.com's email newsletters.