Posted on
Tue, Mar 13, 2012 : 1:05 p.m.
Charter schools 'no better' at educating students, data shows
By Danielle Arndt
An analysis of test-score data reveals Michigan charter schools are performing along the same achievement lines as traditional public schools, according to a report by Bridge Magazine.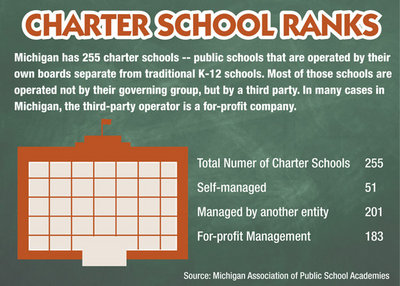 Graphic courtesy of MLive.com
The
article
, republished Tuesday on
MLive.com
, said an average of 84.8 percent, 91.8 percent and 48.2 percent, respectively, of fourth-grade students at traditional public schools met or exceeded standards in reading, math and writing tests. Charter school students scored 76.8 percent, 87.6 percent and 37.7 percent, respectively, on the same tests.
Similar scores were reported for eighth-grade reading, math and science tests.
The Bridge Magazine article said the "charter experiment" started in 1993. Now Michigan's 255 public school academies educate nearly 120,000 students, at an average of 470 students per school.
Several education experts told Bridge they expected the impact of charter schools to be greater after two decades and significant growth. One stated charters appear to be best serving poor minorities and other low-achieving students.
Gov. Rick Snyder and the Michigan Legislature passed a reform package at the end of last year lifting the cap on the number of public school academies. The cap will be eliminated in 2015.
Some experts told Bridge the charter school system is not solving the problems with public education in Michigan, but rather has left the state with two failing systems instead of one.
Read the full Bridge Magazine report here.
Staff reporter Danielle Arndt covers K-12 education for AnnArbor.com. Follow her on Twitter @DanielleArndt or email her at daniellearndt@annarbor.com.