Posted on
Mon, Apr 9, 2012 : 5:59 a.m.
How much did the first U-M president make? How 'Ask a Librarian' service helped me find out
By Kellie Woodhouse
These days everyone is adapting to the need-to-know-instantly mentality.
How to ask a U-M librarian
Text message them at 734-531-9ASK (734-531-9275).
When I log on to Comcast to look at Internet packages, it's not long before a "customer service representative" is chatting me about best prices. If I have a question about my federal student loan balance, all I have to do is visit the website and type my questions in the chat box.
It's so easy it feels wrong.
Well, it turns out that this same service is available through the University of Michigan library. And the crazy thing is you can ask anything —well, almost anything,— and they'll do their best to direct you to resources and answers.
I found out about this feature recently when a friend, a graduate student at U-M, could not stop discussing the novelty of it during a recent outing.
This week I decided to try it out myself.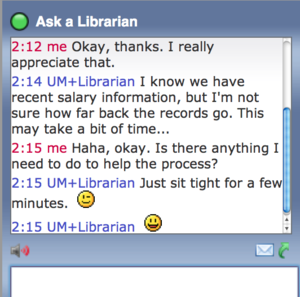 First I had to pick just the right question. I didn't want my inquiry to be simple, but I still wanted it to be in the realm of possibility.
I settled on inquiring about the annual salary of the first-ever U-M President John Monteith, who served at the helm of the University of Michigania from its founding in 1817 through 1821.
Then I went to the Ask a Librarian website and... asked a librarian.
Not 60 seconds passed before I received a response.
"Hello, this is Erin," UM+Librarian wrote at 2:11 p.m. "This is an interesting question. Let me see if I can point you in the right direction."
At first, things looked kind of grim: "I know we have recent salary information, but I'm not sure how far back the records go. This may take a bit of time...," Erin wrote.
Okay, okay. I figured the answer might not be easy to find. But as Erin sat tucked away somewhere in a U-M library searching for an answer to my question, I started to feel guilty and a bit lazy. Shouldn't I be helping?
So I asked.
"Is there anything I need to do to help the process?" I wrote.
Erin, like a kindly hostess, told me to "just sit tight for a few minutes" and sent me not one but two emoticons.
One was winking and the other was smiling.
The effect was instant: Someone was happy to help me! I was instantly mimicking that smiling emoticon.
Eleven minutes after my initial inquiry, Erin referred me to a book in Hatcher about Monteith. Four minutes after that, Erin reported a possible New York Times article with the information I was looking for.
"Apparently there is mention of his salary in a New York Times article from 1928. Let me see if I can find that..." Erin wrote.
Hmm. Apparently? I asked Erin how she (or he?) found out about the article.
"I went to Wikipedia for some general background info on Monteith, and it listed a few references at the bottom of the entry."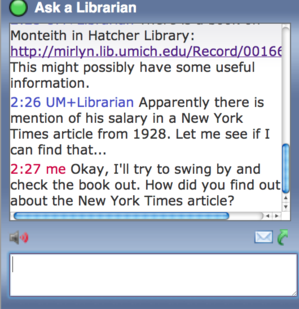 Yes, you read that right. I got out-Wikipediaed by a librarian. It took Erin —who by now I had dubbed my favorite librarian in all the land— less than five minutes to nail down the article for me.
"Okay, I found the NYT article. Let me describe how you can access it," she told me at 2:32 p.m, and then proceeded to explain step-by-step how I could access the piece and exactly where the desired information could be found. "Salary is mentioned in the last few paragraphs."
Ever the diligent librarian, Erin also referred me to Bentley Historical Library and let me know I could access "all of Monteith's papers" there.
Once I received the information I had asked about, I started to feel anxious. I didn't want to end the conversation. I liked Erin and wanted to ask her (or him?) another question, but I didn't want to monopolize her (or his) time.
Still, I couldn't help myself. I wasn't quite ready to let go.
"You were so helpful, thanks! How many questions do you think you assist a day?" I asked.
Erin replied: "Glad I could help! The number of questions varies quite a bit. Usually we get lots of questions around midterms and finals."
It turns out that online chatting is available 77 hours a week and until midnight most evenings during the school year and has been since 2007.
So, are you wondering how much the first U-M president got paid?
At least $800 a year, according to that 1928 New York Times article.
Kellie Woodhouse covers higher education for AnnArbor.com. Reach her at kelliewoodhouse@annarbor.com or 734-623-4602 and follow her on twitter.