Posted on
Sun, Feb 26, 2012 : 2:05 p.m.
Chelsea Backyard Chicken group to plead case to City Council Monday night
By Lisa Allmendinger
The issue of allowing backyard chickens on small lots in Chelsea is coming back to the City Council Monday night.
After laying low since last summer, the Chelsea Backyard Chicken group has offered a sample ordinance to the City Council, and Chris Feleskey, its spokesman, is expected to speak at the beginning of the meeting that begins at 7 p.m.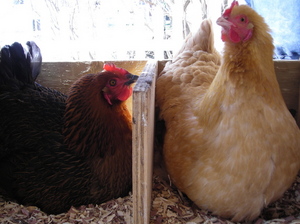 Currently, the city's ordinance allows chickens in three city zoning districts - one agricultural and two residential areas - however, homeowners must have at least 5 acres to legally house them.
The group wants the city to change those current zoning restrictions, something that its Planning Commission studied previously and denied.
According to the group's proposal, three hens would be allowed on property up to .11 of an acre, four hens for property from 0.12 to 0.23 of an acre, six hens for property 0.24 to 0.35 of an acre and eight hens for property that's 0.36 to 4.99 acres.
"Raising a few hens for eggs is not any more of an agricultural activity than having a tomato garden," Felesky said previously. "Hens are innocuous. It would be no cost to the city and there would be no infrastructure needed."
No roosters would be allowed under the proposal.
"Chickens shall be provided with a secure, well ventilated, roofed and lockable structure," the plan states. It also stipulates provisions for complaints about noise, odor, vermin or cruelty.
The proposal would require homeowners to obtain a license that can be revoked if the chickens become a nuisance, which is defined as three violations of its provisions within a 12-month period.
In a letter to City Council Members, the group said, "As you are aware, 'Chelsea Backyard Chickens' has been fighting to modernize Chelsea's anti-hen ordinance for well over a year now."
The letter reiterates that the group has held film events, canvassed door to door, spoken with business owners and participated in several work sessions with elected officials.
"We have approached council formally on three occasions, including two hour-long working sessions. These work sessions have enabled council members to address any concerns that they may have had and enabled us to offer informational packets at each session that contained empirical case studies, as well as our personal appeals to change the law," the letter states.
Since that time, two Chelsea homeowners, Roen Montalva and her husband, Tim Farmer, who live on Harrison Street, were told to get rid of their chickens or face fines for breaking the city's current ordinance.
The group cited "scores of cities across the state have realized the benefits of allowing homeowners to raise a few laying hens, so long as they are kept in a clean and quiet manner," the letter states.
Grass Lake recently enacted an ordinance.
"In light of the recent crackdown, now is the time to deal with this issue once and for all," the letter states. "There are many creative residents in our community and on our City Council. I'm sure that we can come up with a fair resolve and do it quickly."
The Chelsea City Council meets Monday night at 7 p.m. at the Washington Street Education Center, 500 Washington St. The meeting date was changed because of the election on Tuesday night.
Lisa Allmendinger is a regional reporter for AnnArbor.com. She can be reached at lisaallmendinger@annarbor.com. For more Chelsea stories, visit our Chelsea page.