Posted on
Fri, Feb 24, 2012 : 3:43 p.m.
Chelsea Area Fire Authority Board mulls options for six firefighters as part of long-range planning
By Lisa
Since six of its 12 full-time firefighters are currently being paid for through a federal grant, the Chelsea Area Fire Authority is looking at what staffing levels it needs to maintain optimum service when that grant expires in August 2013.
In June 2010, CAFA was awarded a competitive grant through the Assistance to Firefighters SAFER Grant Program and received $545,664 to hire six new firefighters for two years. CAFA must pick up the cost in the third year.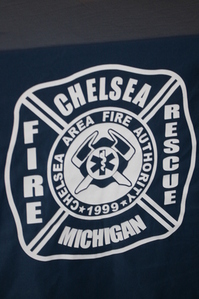 The Assistance for Firefighters Grant Program is administered by the U.S. Department of Homeland Security's Federal Emergency Management Agency.
Now, the CAFA board must decide whether to retain all six, three or none of the firefighters that were hired through this grant. Currently, the fire authority has three shifts with four people on each shift and 24/7 coverage of the house with three full-time firefighters as well as 12 paid-on-call firefighters if needed.
The staffing levels include a full-time chief, three full-time captains, three full-time lieutenants and six firefighters.
The board is mulling what its next step should be during the next five years as it plans long-term fire service. Chelsea Fire Chief Jim Payeur is recommending that "the most cost effective way to provide emergency services throughout this time frame would be to keep three of the SAFER firefighters and lay off three of them."
By keeping three of the firefighters, Payeur said, there would be three full-time personnel on duty round-the-clock. CAFA also has a full-time chief, plus a part-time office manager, who works 25 hours a week.
"We'd go back to the three-platoon system where a lieutenant and a firefighter would go out in the truck (for a medical call) and the captain would stay behind should there be a second call," the chief said.
If there's a fire, all three would go out in one truck.
In fact, keeping three of the six full-time firefighters is the least expensive of the three options. To retain six firefighters, it would cost about $931,000. Keeping three firefighters would cost about $787,000, and laying off all six and using paid-on-call personnel would cost about $849,600 when benefits are included.
Plus, the chief said, there would be a lot more training costs to go back to using the paid-on-call system.
CAFA responds to about 1,300 calls per year as a 1A or basic life support level fire department. About 50 percent of the calls are emergency medical service related, while about 50 percent of the calls are for fires and vehicle crashes, he said.
The authority serves the city of Chelsea and Sylvan, Lima and Lyndon townships, as well as a small portion of Dexter Township.
Since 2005, the SAFER grant program has helped 1,321 fire departments, 28 in Michigan with the goal to help local fire departments comply with national staffing, response and operational standards.
The grants were created to provide funding directly to fire departments and volunteer firefighter interest organizations to help increase the number of trained, "front line" firefighters available in their communities, according to information about the grant.
Lisa Allmendinger is a regional reporter for AnnArbor.com. She can be reached at lisaallmendinger@annarbor.com. For more Chelsea stories, visit our Chelsea page.