Posted on
Tue, Mar 13, 2012 : 9:20 p.m.
Chelsea backyard chicken ordinance moves closer to approval
By Lisa Allmendinger
A draft ordinance that would allow up to four backyard chickens on small lots in Chelsea was approved with minor changes on first reading Tuesday night by a 5-2 vote with Mayor Jason Lindauer and Council Member Rod Anderson voting against it.
"I don't know why, but four seems to be the magic number," said City Manager John Hanifan about the choice of allowing four hens - but no roosters.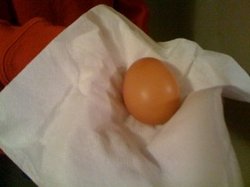 Chickens will only be allowed on property considered a single-family dwelling by city ordinance and residents must get an annual permit to have the animals.
No one convicted of animal cruelty will be issued a permit.
However, residents living in subdivisions should check their homeowner's association rules and regulations because some such as Chelsea Fairways, which has covenants and restrictions that prohibit the keeping livestock and poultry.
Although the fee for that permit will be set by the City Council, Hanifan said he expects it to cost between $10 and $20.
In addition to a permit, chicken owners must include drawings of the chicken area, showing its location on the owner's property as well as proximity to neighboring properties. Council Member Bill Holmberg also asked that information about secure sample coop designs be included "to prevent burrowing critters."
Chickens shall be kept in a secure, well-ventilated, roofed and lockable structure and the floors and walls shall be kept in a clean and sanitary condition, according to the draft ordinance.
In addition, the enclosure shall be not less than 10 square feet per chicken and it cannot be housed closer than 10 feet from a property line "of an adjacent property nor shall it be located closer than 40 feet to any residential structure on an adjacent property."
However, as written, that 40-foot requirement to adjacent property can be waived with written statements from all adjacent landowners.
All enclosures must prevent rats, mice and other rodents from living "underneath, within or within the walls of the enclosure," the proposed ordinance states.
Feed must be stored in a container with a tight lid inside a shed, garage or similar storage structure, and the chickens can only be kept for personal use. Residents will not be able to sell the eggs and chickens cannot be slaughtered.
A permit can be revoked if a person's chickens are deemed a nuisance, defined as two determined violations in a six-month period. Nuisance complaints include noise, odor, and vermin.
Although he voted against it, Anderson called this draft ordinance "a great improvement," from what council members had seen previously.
"I'm happy with it," said Chris Felesky, who has been the voice for a group of backyard chicken advocates who approached the City Council with a request to allow them to keep a few backyard hens in the city for egg production.
Council Member Cheri Albertson told him, "I need to remind you that first reading is not permission to have chickens."
Currently, the city's ordinance allows chickens in three city zoning districts - one agricultural and two residential areas - however, homeowners must have at least 5 acres to legally house them.
The ordinance is expected to be back on the agenda for second reading in two weeks at the next regular City Council meeting.
Lisa Allmendinger is a regional reporter for AnnArbor.com. She can be reached at lisaallmendinger@annarbor.com. For more Chelsea stories, visit our Chelsea page.