Posted on
Wed, Jan 11, 2012 : 5:57 a.m.
Chelsea fire authority plans to buy new ladder truck
By Lisa Allmendinger
Chelsea Area Fire Authority's 35-year old ladder truck will soon be replaced with a new $700,000 aerial truck.
Tower One is the fourth truck out of the station, said Chelsea Fire Chief Jim Payeur, during a presentation about the purchase to the Chelsea City Council on Tuesday night.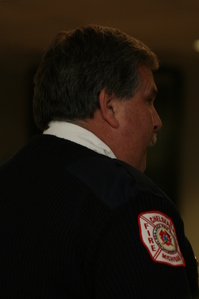 Lisa Allmendinger | AnnArbor.com
The 1976 ladder truck is rusting out and has an 85-foot ladder, a 1,250 gallon per minute water pump and a 450-gallon water tank. The new one will have "at least a 100-foot ladder," 2,000 gallon per minute pump and an about 500-gallon water tank. Plus, it will have storage for fire hose.
"The aerial we purchase would be used as a standalone suppression vehicle," Payeur said, "providing a versatile piece of apparatus that can perform multiple tasks."
It will have a 25-year life expectancy will be financed over 15 years, using $150,000 from the fire authority's truck fund account.
Once in the 200 West Middle St. station, Payeur said, the ladder will be "the first one in for fire incidents in the city."
The authority's major vehicles include two fire engines, a tanker, a tower and two rescue vehicles.
When asked what would happen to the current truck, Payeur said it will be sold, adding: "And we'll be pretty solid with the remainder of the vehicles through about 2016."
CAFA operations are paid for through a 1.8 mil tax levy that was approved by the voters in the member municipalities of Sylvan, Lima, Lyndon townships and the City of Chelsea and will be up for renewal in 2013. Lisa Allmendinger is a regional reporter for AnnArbor.com. She can be reached at lisaallmendinger@annarbor.com. For more Chelsea stories, visit our Chelsea page.