Posted on
Fri, Jan 27, 2012 : 4:08 p.m.
Live nativity scene controversy sparks debate over use of public spaces in Chelsea
By Lisa Allmendinger
A Chelsea council member wants to ensure that the city's use of public spaces treats all groups equally.
The situation began last November when he received a complaint from a resident that the city would not allow a live nativity scene to take place on city-leased property during an annual December festival.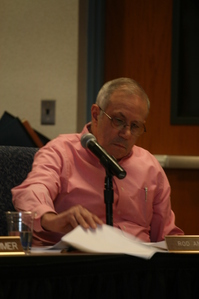 Lisa Allmendinger | AnnArbor.com
Chelsea Councilman
Rod Anderson
said he is trying to "make the city acknowledge it doesn't discriminate against religious events," and thinks that a policy should be established by the City Council.
"Government's authority to constrain free speech, including religious speech during an event," is at the crux of Anderson's concerns, after the nativity scene was disallowed.
The First Amendment states: "Congress shall make no law respecting an establishment of religion, or prohibiting the free exercise thereof; or abridging the freedom of speech, or of the press, or the right of the people peaceably to assemble, and to petition the Government for a redress of grievances."
Councilwoman Cheri Albertson agrees that the city "needs a policy for city-owned public places; who and how spaces can be used, but this policy has nothing to do with religion or free speech," she said.
Anderson said there need to be rules about events in the city that will treat religious and non-religious events alike.
In previous years, a group held a living nativity event as part of the holiday festival in a number of different locations downtown - including on city-owned land at the corner of Orchard and Main streets. During the past several years, the living nativity event took place on the Palmer Ford parking lot, which was privately owned.
However, the lot was recently leased by the city, and the group was asked to move the event to another location. This year, it took place on the west side of the Methodist Church on Park Street.
Anderson brought the complaint to the Chelsea City Council last month and requested that they discuss the situation. He even consulted with the American Center for Law and Justice for help.
The center was part of a Supreme Court ruling in a case called Lamb's Chapel v. Center Moriches School District, which involved a church-related use of public space.
According to the center's website in an explanation of the First Amendment case: "An evangelical church desired to rent a school facility for an evening showing of a film series … (that) dealt with contemporary family issues from a Biblical perspective. The church's request for use was denied by school administrators because it was "church related."
"Although the school facilities were available to community groups for social, civic, and recreational purposes, the rules and regulations specifically prohibited any religious use. The Supreme Court ruled (unanimously) against this prohibition, stating that the religious exclusion was unconstitutional," according to a synopsis of the case.
On Tuesday night, Anderson handed out background informationEqual access info.pdf he'd compiled on the use of public spaces for religious purposes, which laid out the "genesis" of the issue in Chelsea. He also included proposed language for regulations.
In part, it reads, "A private individual, group, or entity may use city property to conduct a religious or seasonal event, subject to reasonable time, place, and manner regulations." Read the full document hereReligious event wording.pdf.
He told the City Council that he vetted the proposed language through the center and offered it to the council for consideration.
Since, he said, "The (Palmer) property is planned for other "secular uses," there should be some sort of a policy in place for the use of public areas for all religious uses."
Currently, the only policy in place for the use of public places, City Manager John Hanifan said, was for farmers markets.
"As a city, we can regulate a farmers' market, that's it," he said, adding there are no city regulations for a Frisbee tournament or a dog show or even a Boy Scout event.
Hanifan said the city "doesn't allow or disallow anything else" and he provided the City Council with policies from several other municipalities for the use of public land.
Several of the City Council members felt that the regulations presented from other municipalities were "onerous," and wanted the Planning Commission to take a look at the issue.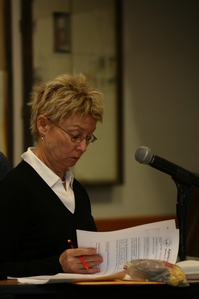 Lisa Allmendinger | AnnArbor.com
Plus, City Council members said, they were hesitant to vote on something that they just received that night.
"I'm not going to let this rest," Anderson said. "We can do it the hard way or the easy way."
To which Mayor Jason Lindauer said, "How about the efficient way?"
Anderson said the City Council was missing the point. The central issue that's not being addressed is "not discriminating against religious events on public property."
He says the city cannot place "prior restraint on speech and the city council has shown zero interest in hearing this."
Albertson said that she's a huge advocate for freedom of speech. "To say that I'm for freedom of speech is a huge understatement," but she thought the draft language Anderson had given the City Council was "a Pandora's box," and went further than it needed to.
"This is fraught with significant inherent complexities and it's a complicated issue. We need to look at what is in Chelsea's best interests," she said.
Anderson recommended that the City Council ask for a legal review of the subject, but Councilman Kent Martinez-Kranz suggested, "Let's kick this to the Planning Commission to review before we spend money on legal fees."
Anderson disagreed and said he didn't see this as a planning issue, but rather a City Council policy decision.
And after a lengthy discussion, the City Council voted to "refer the private use of public property to the Planning Commission for their discussion and development of language to amend the General Code of Ordinances for the Private use of Public Property and to recommend a policy and procedure to be adopted no later than May 2012."
The motion did not include the language provided by Anderson for a policy for religious use, and Anderson voted against it.
Albertson, who is the council's liaison to the Planning Commission, offered to take his concerns to the planners, but Anderson declined her offer.
"The City Council is totally missing the point. If secular events are allowed, religious ones must be as well," he said.
Anderson sent a synopsis of Tuesday night's discussion to the American Center for Law and Justice and their position is "regardless of the language in any city ordinance or other code, the city is still bound by the Constitution, in that they may not discriminate against religious groups wanting to hold events in public spaces."
If there are any cases of such discrimination, ACLJ asked to be contacted for appropriate legal action, he said. "Since the city is unwilling to modify its code to formalize a public policy that explicitly complies with constitutional limits, it is necessary to alert the community that legal redress is available in the event of discrimination and they should contact me if they encounter such," Anderson said.
Lisa Allmendinger is a regional reporter for AnnArbor.com. She can be reached at lisaallmendinger@annarbor.com. For more Chelsea stories, visit our Chelsea page.