Posted on
Thu, Feb 2, 2012 : 8:29 a.m.
2011 reported crimes down 15 percent in Chelsea
By Lisa Allmendinger
Chelsea Police are still receiving tips about the armed robbery that took place last fall at Perky Pantry.
Despite this unusual incident in the city, reported crimes were down 15 percent in 2011, according to year-end statistics.
And, although police have not made an arrest in the case, Chelsea Police Chief Ed Toth said, "We won't give up on an armed robbery."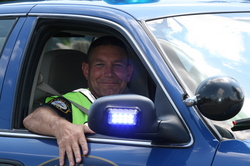 Lisa Allmendinger | AnnArbor.com
In 2010, there were 291 reported crimes in Chelsea according to the Michigan Incident Crime Reporting statistics. In 2011, there were 247 incidents reported, or 44 less then the previous year.
While most of the category statistics remained constant, here are a few of the highlights:
The highest number of incidents in Chelsea were 24 cases of non-aggravated assault, an increase of four incidents since 2010.
Larceny thefts from a building totaled 23 incidents compared to 33 incidents the previous year.
There were 22 larceny thefts from a motor vehicle in 2011, compared to 25 in 2010.
There was an increase in the number of controlled substance incidents from 14 crimes in 2010 to 17 in 2011 for a 21.7-percent increase.
The number of drunken driving incidents did not change with 18 incidents last year and the same number the previous year.
Narcotic equipment violations jumped 71 percent from seven in 2010 to 12 in 2011.
There were three cases of embezzlement in 2011, a 300-percent change from the single reported case in 2010.
Rebecca Trester, records clerk, said the department follows the Michigan Incident Crime Reporting standards and she compiles the paperwork for the state reporting.
She said the city does not close a case until an arrest is made.
"The crime depends on the season," Trester said, and "Crime goes up and down. For instance, last February, nothing happened."
She said sometimes all it takes is one or two "troublesome people (in the city) and when those people move or go to prison," the numbers go down.
In 2008, there were 344 reported incidents and in 2009, there were 322 incidents. Calls for service in the city, which range from barking dogs to extortion. are down by 17 percent from 6,117 in 2010 to 5,029 in 2011.
Toth attributed a large chunk of the reduction to 489 less court-ordered breathalyzer tests that are administered in the police station.
"Departments, county-wide, have less individuals being arrested and that means less people going to court and receiving mandated breath tests," he said.
Arrests were up, Toth said. Of the 214 total incidents in the city, there were 63 arrests and 38 additional cases were "exceptionally cleared" for a clearance rate of 47 percent, "which is pretty good," Toth said.
Arrests of adults were up 11.34 percent and juvenile arrests were up 14.28 percent, he said.
The department has eight full-time officers, including the chief and a canine officer. There are seven part-time officers, three full-time dispatchers, a records clerk, two parking officers, three crossing guards and three reserves.
He said tips from residents that can be important in crime solving. "It could be the last piece of a puzzle that we need to make an arrest." he said.
Something as simple as a description that helps police put it together.
"If a crime happens, we want to know about it as soon as possible to stop it from happening to someone else," Toth said.
He said sometimes people don't want to report crimes because they don't want to press charges against a neighbor or a neighbor's child.
"When in doubt, call us. You don't have to press charges, you can make that determination later," Toth said, adding that reporting something out of the ordinary as soon as possible is important.
"The public's willingness to get involved helps keep the total reported crimes down," he said, adding that the Chelsea Police Department is a team from its dispatchers to the records clerks to the officers on the streets.
"Everyone gets involved to keep crime down," he said, adding, "Chelsea is a great town."
Lisa Allmendinger is a regional reporter for AnnArbor.com. She can be reached at lisaallmendinger@annarbor.com. For more Chelsea stories, visit our Chelsea page.