Posted on
Wed, Mar 14, 2012 : 2:15 p.m.
Chelsea Springs subdivision residents exploring annexation into city of Chelsea
By Lisa Allmendinger
Residents in Chelsea Springs, a Sylvan Township subdivision on the outskirts of Chelsea, will have a work session with the City Council in early April to delve further into possible annexation into the city.
Tuesday night, Deneil Harney, president of the subdivision's homeowner's association, told the City Council that although residents chose to live in the township, they've become increasingly disenchanted with the treatment they've received from township officials.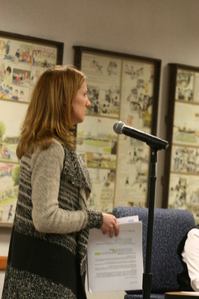 Lisa Allmendinger | AnnArbor.com
On Nov. 16, the Chelsea Springs Board of Directors sent an email to City Manager
John Hanifan
that said, "Chelsea Springs would like to begin a conversation on the mutual benefits of Chelsea Springs Condominium Development annexing into the City of Chelsea."
The email said that "the residents and Board of Directors representing Chelsea Springs are extremely dissatisfied with the services provided for water and sewer by the Sylvan Township. We also have grave concerns with the uncertainty of the political and financial stability of Sylvan Township."
In November, Sylvan Township voters rejected a 4.75 mill tax levy that would have paid for about $13.2 million in sewer and water system debt as well as $1.25 million owed to the Washtenaw County treasurer over 20 years, which is the result of a lawsuit by a developer. The township is unable to make its May interest-only bond payment for the utilities and is facing an undetermined tax increase later this year.
There are 51 homes in Chelsea Springs, Harney said.
Hanifan reminded the Sylvan Township residents that in addition to the library, school and fire millages that they pay, Chelsea City residents pay more than 11 mills for operations. Sylvan Township residents pay less than 1 mill in general fund taxes.
Lisa Allmendinger is a regional reporter for AnnArbor.com. She can be reached at lisaallmendinger@annarbor.com. For more Chelsea stories, visit our Chelsea page.