Posted on
Sat, Feb 4, 2012 : 10 a.m.
Chelsea City Council to set goals in visioning session
By Lisa Allmendinger
The Chelsea City Council will evaluate its current situation, set goals and look toward its future Monday night at its annual visioning session at The Depot.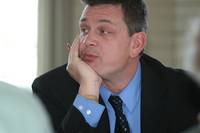 Lisa Allmendinger | Ann Arbor.com
At 6 p.m., there will be a discussion of Robert's Rules of Order, followed by a mid-year review of the progress on the city's 2011-2012 goals and objectives, which include:
Steps to maintain financial stability Ensure good stewardship of municipal infrastructure Engage the community Develop and maintain a first-rate work force Encourage innovation and excellence in customer service Promote a safe community
This will be followed by a strategic visioning session for 2012-13, according to the agenda. Among the topics for discussion will be personnel practices, management development, infrastructure and financial management.
Also planned is a discussion of the city's property, assets and infrastructure and any concerns of City Council members, who will have an opportunity to introduce ideas for council consideration.
The meeting is scheduled to run from 6-8 p.m.
For more Chelsea stories, visit our Chelsea page.