Posted on
Tue, Feb 7, 2012 : 10:30 a.m.
What to do with city-owned property part of Chelsea plan
By Lisa Allmendinger
During a mid-year review of the city's goals and objectives, City Manager John Hanifan told the Chelsea City Council that although 2012-2013 will be "a challenging budget year," he plans to propose a budget that will keep the tax rate stable for the fourth consecutive year.
In addition, the city is expected to have a reserve fund of about 15 percent of its annual expenses.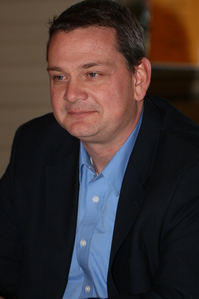 Lisa Allmendinger | AnnArbor.com
However, he said that there's still work to be done to reach a reserve fund balance that's equal to 50 to 75 percent of annual expenses for the electric, water and wastewater enterprise funds. That's the level recommended in a rate study done for the city. Currently, those levels are at 30 percent, 20 percent and 12 percent reserves respectively.
Elected officials will take a close look at all of the properties it owns in the city and discuss which ones should be sold in a work session. With a new police station 90 percent complete, the city plans to sell the old police station building on Middle Street. It also has a sale pending of the Buchanan Street property.
The city purchased the 4.38 acre property and the building that housed Bookcrafter's, a book printing company at 140 Buchanan St. in 2002 for $995,000, and the original plan was to put city offices on the site but that never materialized, and the property languished. Hayes Sumner LLC, a sister company of Chelsea Milling Company, which is located nearby, is buying the property for $175,000.
There will be four key areas of focus for the fiscal year 2012-13. From personnel practices such as a legal review of the city's personnel manual and employee handbook to new employee training programs to planning for "succession planning" for future leaders in different departments as well as a closer look at the use of contracted services in the city.
For example, the city contracts for its property assessing services as well as tree trimming services, and Hanifan said he would like to look at ways to improve "the integration of contracted services."
Hanifan also wants to reconfigure the city offices in the Chelsea State Bank building to bring the two full-time employees who work in the basement of the building up to the first floor.
Lisa Allmendinger is a regional reporter for AnnArbor.com. She can be reached at lisaallmendinger@annarbor.com. For more Chelsea stories, visit our Chelsea page.