Posted on
Sat, Feb 25, 2012 : 1:04 p.m.
Maple syrup lovers unite: March offers a chance to celebrate your favorite sweet treat
By Lisa Allmendinger
There will be multiple celebrations of maple syrup during March highlighted by festivals, how-to demonstrations and the first Waterloo Maple Festival.
Sandhill Crane Vineyards and the Eddy Discovery Center inside the Waterloo Recreation Area plan to highlight variations of the sweet treat in two locations on March 11.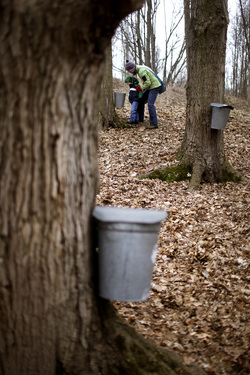 From 1:30 to 3:30 p.m. there will be "Maple Syrup Making: From the Tree to the Pancake," at the Eddy Discovery Center, 17030 Bush Road in
Chelsea
. Naturalist
Tom Jameson
will share his techniques for do-it-yourself maple syrup making.
Following a viewing of the film "Maple Sugar Farmer," he will lead a short walk to show how to identify maple trees and demonstrate proper tapping techniques. The cost is $2 per person or $5 per family. Advance registration is requested at 734- 475-3170.
Also on March 11, from noon to 6 p.m., Sandhill Crane Vineyards, 4724 Walz Road, in Jackson, will "Celebrate Sugar Snow at The Vineyards."
"A highlight of the Waterloo Maple Festival is the release of the 2011 vintage of Sugar Snow, Sandhill Crane Vineyards' limited edition dessert wine, made with local maple sap and syrup," according to the information about the event.
In addition, the winery's café will feature sweet and savory dishes made with maple, including Sugar Snow Sorbet. Admission is free.
On March 17, a Maple Syrup Festival will take place at Dahlem Conservancy in Jackson. For more information call, 517-782-3453. On March 25, there will be a "Sugaring & Shearing Festival" at Ella Sharp Museum in Jackson. For information, call 517-787-2320.
Also in March, take maple syrup tours at McLennan Maple Syrup, 10950 M-52, Manchester. To schedule a tour, call 734-216- 2343 or email mclennanmaplesyrup@gmail.com.
For more Chelsea stories, visit our Chelsea page. For more Dexter stories, visit our Dexter page.