Posted on
Fri, May 3, 2013 : 5:59 a.m.
MDOT investigating I-94 roadway sinkage at site of Enbridge pipeline in western Washtenaw County
By Amy Biolchini
Editor's note: The spelling of interstate has been corrected.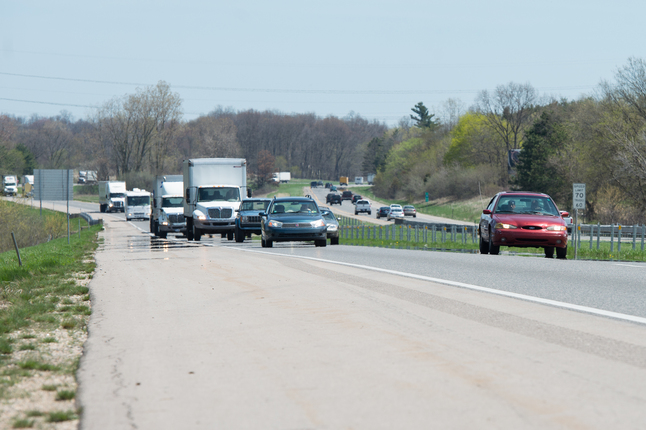 Courtney Sacco | AnnArbor.com
Officials have confirmed an investigation is underway into the source of a small sinkage in the westbound lanes of
Interstate 94
in
Lima Township
at a site where a
crude oil pipeline
was recently installed.
The Michigan Department of Transportation was alerted to the situation about two weeks ago and has been investigating since, said Mark Sweeney, manager of the Brighton post.
The spot of the situation is directly above the site where Enbridge Pipelines Toledo Inc. had most recently completed a directional drilling project underneath both lanes of the highway.
"People were calling and saying there was a dip in the roadway," Sweeney said. "Once (MDOT) saw the dip, we followed it back through the permits (to Enbridge)."
Enbridge is in the middle of installing a new crude oil pipeline - Line 79 - in northwestern Washtenaw County. The line runs from Stockbridge where it intersects with its source - the cross-country Line 6B - and goes to Freedom Township in Washtenaw County.
Line 79 is being installed parallel and adjacent to Enbridge's existing Line 17, which serves refineries in Detroit and Toledo.
Directional drilling is a common industry practice to install pipelines or other infrastructure lines that would otherwise interfere with roads, waterways or other sensitive areas. Drilling fluid - typically a viscous mixture of water and a polymer - is used to aid the drill bit's movement through the ground.
MDOT has been in contact with Enbridge as a part of the investigation, Sweeney said.
"We are aware of the situation and have been working with the state to address it and ensure there are no public safety concerns," said Jason Manshum, Enbridge spokesman in an emailed statement.
MDOT has not yet confirmed the source of the situation and is conducting ongoing tests.
"We don't believe it was there before (Enbridge) did the drilling," Sweeney said. "It's something that's out of the ordinary."
Roadwork was last completed on that section of I-94 in 2010, when MDOT contracted for a mill and overlay project of about 5.5 miles of highway between Freer and Parker roads.
"There would not be settling from that project because it was only dealing with the surface of the roadway," Sweeney said. "It would be surprising if anything that happened in 2010 would be affected there."
Driving west at a speed of 70 mph, the dip is about 30 seconds past mile marker 164 just past a set of transmission towers that cross I-94 overhead.
"If you were standing on the shoulder - you could see a small bounce in the traffic," Sweeney said.
That portion of I-94 is smooth and has few cracks or bumps. In the westbound lanes of I-94 between Parker and Freer roads, it's the most noticeable disturbance in the road.
Driving over the sinkage in the freeway, feeling the car travel through the dip in the road only lasts for a few seconds. The eastbound lanes are not affected at this time.
"From an MDOT perspective, we don't care how big or small it is," Sweeney said. "We have to do some testing."
Courtesy of the National Pipeline Mapping System
Amy Biolchini covers Washtenaw County, health and environmental issues for AnnArbor.com. Reach her at (734) 623-2552, amybiolchini@annarbor.com or on Twitter.