Posted on
Mon, Apr 30, 2012 : 4:22 p.m.
New business resource center opens at Chelsea District Library
By Lisa Allmendinger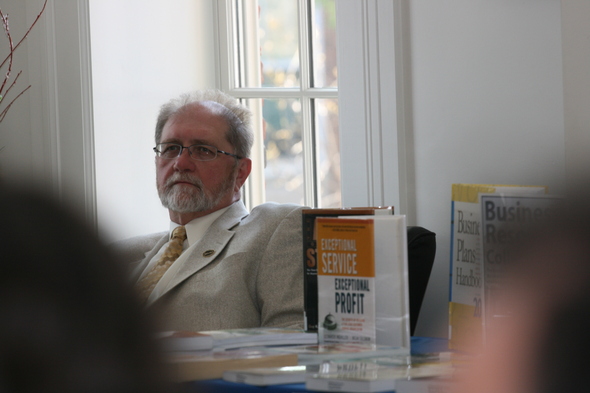 Lisa Allmendinger | AnnArbor.com
Chelsea area small business owners and entrepreneurs have a new resource center available to them at the
Chelsea District Library
for assistance and advice.
Unveiled Thursday night, "The Business Resource Center is a fine example of the essential role that our library can play in the community," said Bill Harmer, library director.
And although the library has been providing books, one-to-one counseling, workshops and training for years, this new collaborative effort brings together the library, the Chelsea Area Chamber of Commerce, SCORE and Michigan Small Business and Technology Development Center. The center, located on the second floor, includes a new specialized business database called referenceUSA.
ReferenceUSA allows users to search market research, customer demographics and competitor profiles. The data helps business owners find new business opportunities and partnerships, and research executives and companies worldwide.
Library users can track down addresses and phone numbers, and examine community profiles and demographics - all tools that can aide a business owner in starting, expanding and marketing his or her business. And, it's all free with a Chelsea District Library card.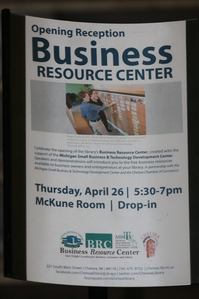 Lisa Allmendinger | AnnArbor.com
"The Business Resource Center is a way to help grow your business, and it's at your fingertips at the library," Harmer said, adding that staff will show people how to use the new program.
Harmer said a survey from the University of South Carolina found that 78 percent of business users indicated that information obtained from the public library contributed to the success of their business.
"This has been an exciting collaboration over the last two years, not just for our members, but for all future business owners in Chelsea," said Bob Pierce, executive director of the Chelsea chamber.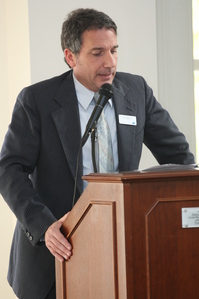 Lisa Allmendinger | AnnArbor.com
About 35 people attended the launch including
Steve Feinman
, of Dexter Township, who is familiar with the business services that the library offers because he's one of the people who provides them.
Feinman is the state director for SCORE and can be found every third Wednesday of the month at the Chelsea Library for one-on-one counseling.
"SCORE is a nationwide organization of active and retired business men and women who volunteer their services to assist small businesses and entrepreneurs," according to the organization's website. It provides free business counseling and offers low-cost workshops on a variety of business topics.
Feinman said he's worked with business people who own everything from lawn services to software companies - even a fish farmer.
No matter the size of the company or the number of employees, "They all have common problems," Feinman said.
"The need for information isn't going anywhere, and the Business Resource Center offers guidance," he said.
Lisa Allmendinger is a regional reporter for AnnArbor.com. She can be reached at lisaallmendinger@annarbor.com. For more Chelsea stories, visit our Chelsea page.