Posted on
Sat, Jan 28, 2012 : 11:28 a.m.
Newly built homes in Chelsea to be charged $1,060 upfront in recycling fees beginning in 2012
By Lisa Allmendinger
As the Western Washtenaw Recycling Authority (WWRA) moves toward single-stream recycling, owners of newly built homes in Chelsea will be charged $1,060 upfront for the recycling authority's five-year operating assessment and the 15-year bond debt assessment.
The $1,060 assessment will be due when the zoning permit fees are paid, said Frank Hammer, chairman of WWRA, and any reductions in those fees will be refunded to homeowners at the end of five years.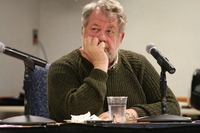 Lisa Allmendinger | AnnArbor.com
Current Chelsea homeowners pay $100 each year for the debt and operating costs combined.
Owners of newly built homes will pay $840 upfront for recycling debt costs but they won't be assessed again until 2027, when new fees are calculated. In addition, they will pay $220 upfront for recycling operating costs, and amount expected to decrease during the next five years, Hammer said.
Hammer said the purpose of the charges are to "obtain money from new residents for WWRA as a prepayment for the five-year and 15-year assessment."
However, for a home built in 2013, the assessed fees will be $960 upfront when zoning permits are paid. In fact, new homes built in subsequent years through 2016 will see decreased upfront assessments. For example, a home built in 2014 will be assessed $728 for recycling debt costs and $132 for operations or a total of $660.
This month, the Chelsea City Council unanimously approved two resolutions to allow WWRA to assess the newly built properties.
Hammer expects the operating millage amount to be reduced during the five-year assessment period and "we'll refund any money due at the end of the five years."
Lisa Allmendinger is a regional reporter for AnnArbor.com. She can be reached at lisaallmendinger@annarbor.com. For more Chelsea stories, visit our Chelsea page.